By Chesney Hearst, Senior Contributing Reporter
RIO DE JANEIRO, BRAZIL – A total of 644 doctors from abroad arrived in Brazil this weekend as part of the government's controversial Programa Mais Médicos (More Doctors Program). The doctors will begin a three-week training program today in preparation for their duties in Brazil.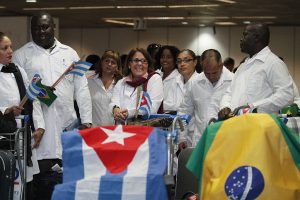 The Brazilian Ministry of Health recruited the doctors for the initiative, which aims to supply qualified doctors to areas where there are shortages or a lack of professionals.
President Dilma Rousseff had made bringing in foreign-trained doctors to cope with Brazil's shortages one of her priorities following countrywide protests that demanded better public transportation and adequate healthcare, among others, in June.
Four hundred of the doctors arrived from Cuba, with one hundred and forty-five from other countries. Brazilians returning home after receiving training abroad accounted for the other ninety-nine arrivals.
During the three-week training program, the doctors will receive legal and ethical training, attend 120 hours of lectures, workshops and participate in consultation, as well as complex case simulations. Portuguese classes will also be provided for those that require them.
During their training, the doctors will be housed in barracks located in eight Brazilian capital cities. All participants will undergo an an assessment before they are allowed to continue on to the municipalities where they are needed. Those who pass the program and assessment will begin working in their assigned areas on September 16th.
Some doctors will receive R$10,000 in monthly wages from the local government for their work with guaranteed room and board. However, the Cuban doctors' wages will reportedly go first to the Cuban government as stipulated by a signed agreement between the Ministry of Health and the Pan American Health Organization (PAHO). A portion, somewhere between between 25 and 40 percent, will then go to the Cuban doctor.
In response to questions about the payment issue, Cuban arrival, Nelson Rodriguez told O Globo that he is here to help people, not to get rich. "We are doctors by vocation, not for money," Rodriguez, who arrived with twenty-nine others in the city of Recife on Saturday, said. "We work in any country, not for money but for love."
Rodolfo Garcia, a Cuban doctor who arrived in Brasília on Saturday, echoed Rodriguez's sentiment. "Money for us is second. We will receive a stipend that is sufficient. The rest goes to Cuba for hospitals and other healthcare actions. And I want to tell you that I know the Brazilian reality. I've been in Pará, Amapá, in Tocantins. We came to help Brazilian doctors, not to compete," Garcia said.
Read more (in Portuguese)
* The Rio Times Daily Updates feature is offered to help keep you up-to-date with important news as it happens.