By Lise Alves, Senior Contributing Reporter
SÃO PAULO, BRAZIL – Two executives from one of Brazil's largest construction conglomerates, Andrade Gutierrez, have agreed to turn state's evidence in exchange for house arrest. According to Brazil's Ministerio Público Federal (Federal Public Ministry) former company president, Otávio Marques de Azevedo and former director Elton Negrão will be monitored by electronic ankle bracelets.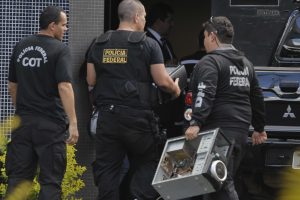 The two men are accused active and passive corruption, money laundering and creation of a criminal organization. They had been held in prison in Parana state since June 19, 2015.
Federal prosecutors say the two executives are part of a cartel which gave million of dollars to Petrobras directors in exchange for contracts with the oil giant as well as obtaining advantages in other public work contracts. The cartel was investigated in the Lava Jato (Carwash) scandal.
In November 2015 the company signed an agreement with federal prosecutors in charge of the Lava Jato operation to cooperate with investigations, recognize illicit operations and pay a fine of R$1 billion for the losses caused in the construction of Nuclear Power Plant Angra 3 and stadiums constructed for the 2014 World Cup held in Brazil.
The Operation Lava Jato was launched in March of 2014 with the objective of dismantling criminal organizations which were involved in money laundering schemes and other crimes against Brazil's financial system.
The dismantling of the mega-corruption scheme led to the arrests of dozens of executives from construction companies and engineering firms, and current and former politicians, including former Chief of Staff, Jose Dirceu and PT leader in the Senate, Delcidio do Amaral.