By Lise Alves, Senior Contributing Reporter
RIO DE JANEIRO, BRAZIL – Federal prosecutors in Brazil have filed charges of corruption against former president Luiz Inácio "Lula" da Silva and his wife, Marisa Leticia da Silva, and six other people. According to prosecutors the former leader was the head of an massive network of corruption and money-laundering scheme.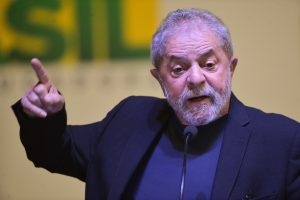 Lula's attorneys and allies deny the allegations stating the charges are an attempt to prevent the former president from running for the Presidency again in 2018.
"The data has led us to conclude without a doubt that Lula was the commander of the criminal scheme uncovered by Lava Jato [investigation]," said prosecutor and coordinator of the Lava Jato task force Deltan Dallagnol.
According to Dallagnol, Lula received advantages from companies involved in the Petrobras corruption scandal, including 'gifts' such as a triplex apartment in Guaruja, located in the coast of Sao Paulo state.
Calling him 'the main commander' and 'the main actor' in the Petrobras corruption scheme prosecutors have determined that the advantages given to Lula totaled more than R$3.7 million.
On his account on social network Facebook, Lula said that on January 30th he made public documents that would prove that he is not the owner of the triplex.
"Lula was only once in the building, when his family was assessing the property. He never owned it or even slept one night in the apartment the Lava-Jato [investigation] desperately tries to assign to the former president," said Lula in post on Facebook.
According to his lawyers the charges against the former leader is to weaken his bid for the presidency in 2018.
"I understand that there is a scene of persecution and, more than that, there is a real intention to withdraw Lula from the political and electoral scenario in 2018," said one of Lula's lawyers Cristiano Zanin Martins, during a press conference on yesterday.
The charges against Lula, of passive corruption and money laundering, carry a maximum penalty of up to 32 years and six months in prison.