By Patricia Maresch, Senior Contributing Reporter
RIO DE JANEIRO, BRAZIL – After months of testing, the Teleférico (gondola) line at the Complexo do Alemão in Rio's Zona Norte (North Zone) has gone into service. The cable car system, much like those used at ski resorts, can carry 3,000 passengers per hour from Bonsucesso to Palmeira, stopping at six different stations. The line resolves massive transportation issues within the area and reconnects the Zona Norte favelas with the rest of the city.
The cable car system is the first in Brazil, but not in Latin America. There are similar Teleférico systems in communities in Medellín (Colombia) and Caracas (Venezuela).
President Dilma Rousseff attended the festive opening ceremony of the Teleférico last week on Thursday. "We are experiencing a very important moment for Brazil," she said. "A part of the Brazilian population was doomed to abandonment, but now we are spending our resources on those most in need."
The Teleférico is part of the PAC, Brazil's Growth Acceleration program, and part of an urban revitalization program started under former President Lula da Silva. It ranges from basic sanitation to new housing and social services, and the Teleférico alone is a R$210 million (US$133 million) project.
The architect of the cable car line at the Complexo do Alemão is Jorge Mario Jáuregui. He uses the term "favela-barrio" (slum-neighborhood) to describe his approach to urban design in the favelas. 
Jáuregui believes that favelas are thriving communities which can be turned into vibrant neighborhoods if provided with infrastructure and basic services such as water, electricity, paved roads, footpaths and facilities such as community centers, schools and sporting facilities in order to foster growth and opportunity.
At the Complexo do Alemão, using the Teleférico shortens travel time between its two extreme stations from 50 minutes by foot up-and-down an unpaved hillside, to a pleasant sixteen minutes. The 3.5 kilometer ride also offers a panoramic view of Rio's landscape. The Teleférico gondola system currently has 152 cabins, fitting ten people each.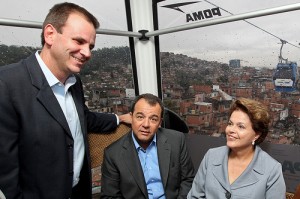 Many residents are looking forward to using the cable cars. "First thing I do when the line is open, is take my grandchildren for a ride," says 62 year-old Sonia from Vila Cruzeiro. "They will love the view from high above. I would never take them way up if we would have to walk, but now we can easily explore our part of the city."
The Teleférico initially will operate from 9-11AM and 2-4PM and hours will be extended in a later stage. "I hope that will be soon, especially during morning rush hour it would save us all a lot of time commuting to work or school," another resident from the Complexo said.
Rousseff mentioned to the press after her visit to Alemão that the area has every potential to become a tourist spot: "After the pacification of the Complexo do Alemão in November last year, the expulsion of the drug dealers and the implementation of a Peace Force, we have improved people's lives and created a secure environment."
All 120,000 residents of the Complexo do Alemão have the right to two free rides per day and, if needed, continue their journey on one of of the SuperVia-trains. Additional rides will cost R$1 (US$0,60). Non-residents will have to pay a small fee. However, the first month all passengers can use the Teleférico free of charge.