By Lise Alves, Senior Contributing Reporter
SÃO PAULO, BRAZIL – News of people dying while waiting for care in Brazil's public hospitals is not uncommon and most health analysts agree that Brazil's Health System is extremely deficient. Many in the field, however, praise the country's Farmacia Popular (Popular Pharmacy) and its Saúde Não Tem Preço (Health Has No Price) programs, which distribute many types of medication with a reduced price or free of charge.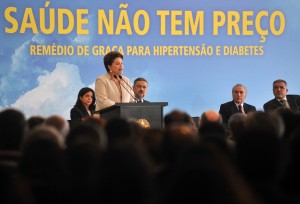 "The program is interesting," says Dr. Jose Erivalder Guimarães, director at the Sindicato dos Médicos de São Paulo (São Paulo Physicians' Union). "It assists those lower income Brazilians by giving them free prescription drugs for basic, chronic diseases, such as hypertension, high cholesterol and diabetes."
According to data from Brazil's Ministry of Health more than 63 percent of all Brazilians over 65 years old suffer from hypertension. In all, approximately 33 million Brazilians, or more than 24 percent of all adults, suffer from high blood pressure. The data also shows that more than 7.5 million Brazilians have diabetes.
The Farmacia Popular program started in 2004 with a list of over one hundred prescription drugs, as well as condoms, being distributed through a network of federal, state and municipal pharmacies at cost prices. According to the Health Ministry, the savings of some of these drugs can reach ninety percent of the regular consumer price. In 2006 the program expanded to private pharmacy chains throughout the country. Today there are more than fifty five thousand pharmacies around the country distributing medication at significantly lower prices.
In 2011 the Saúde Não Tem Preço program was introduced by the Rousseff government and started to distribute free medication for chronic diseases such as hypertension, asthma and diabetes. In addition to the free drugs, other drugs for maladies such as Parkinson's, osteoporosis, cholesterol and glaucoma, as well as geriatric diapers and contraceptives were made available at cost.
In the last three years, according to the Ministry of Health, the federal government has invested nearly R$3.9 billion in the program. The budget for 2014 is of R$2.6 billion, a 27 percent increase from last year's budget.
In her weekly radio show earlier this year, President Rousseff praised the results of the Saúde Não Tem Preço program: "This is an important program because millions of Brazilians are being helped with access to medications for chronic diseases. In three-years time we have distributed drugs to almost eighteen million who suffer from diabetes and hypertension and 1.2 million who suffer from asthma."
The two programs are made available for everyone, the rich and the poor alike. "Many of my patients who can afford to purchase the medication I prescribe often obtain the drugs through these programs," says Dr. Guimarães. However a recent O Globo report found mismanagement in hospitals leads to lack of medicine, after 53 percent of 116 hospitals audited showed flaws in the control of medicines.
Yet as for the availability of these free or inexpensive prescription drugs at pharmacies, The Rio Times conducted a survey with twenty pharmacies in different regions of the São Paulo Metropolitan area to see if they had some of the most popular prescribed high blood pressure and diabetes medications. Without exception all of them had in stock the drugs.
The 1988 Brazilian Constitution made universal healthcare a right for all 190 million Brazilians. According to the government 80 percent of the country's population have no health plan and rely on the government's publicly funded health care system, SUS.