By Jay Forte, Contributing Reporter
RIO DE JANEIRO, BRAZIL – Secretary of State Hillary Clinton will lead a delegation of eleven government members from the United States at the UN Rio+20 Conference, including the head of the Environmental Protection Agency, Lisa Jackson, and the Special Envoy for Climate Change, Todd Stern.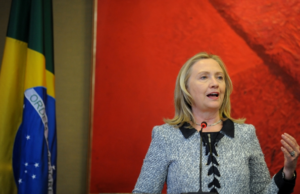 Also part of the delegation the U.S. Ambassador to Brazil, Thomas Shannon, the representative of the White House Council on Environmental Development, Nancy Sutley, and Assistant Secretary of State for Oceans and International Environmental and Scientific Affairs, Kerri-Ann Jones.
The announcement of the visit of Secretary, confirmed just on Tuesday, comes after the request of the UN Secretary-General Ban Ki-moon to U.S. President Barack Obama to attend the conference. In a statement made in April, Ban Ki-moon stressed that U.S. support would enhance the credibility of the summit and demonstrate the country's concern with the environment.
Major Brazilian media outlet O Globo reported on Thursday a wave of rumors that U.S. President Obama had decided to come to the conference, by amending the meeting of Heads of State who will be in Mexico next week for the G-20.
The rumors apparently started after a few diplomats noted that the security procedures were being strengthened. However American diplomats were quick to deny the change, reaffirming that the leadership of the U.S. delegation to the Rio+20 was the responsibility of the Secretary of State Hillary Clinton.
The Secretary-General of the United Nations (UN) for Rio+20, Sha Zukang, said the absence of some world leaders – such as U.S. President Obama, German Chancellor Angela Merkel and Prime Minister of the UK David Cameron – will not weaken the conference. Zukang said he understood the reasons for any absences, including the U.S. elections and the economic crisis in Europe.
A reported 134 heads of state or government are already confirmed to attend the conference. These will be joined by thousands of business CEOs, government officials, NGO leaders, academics, senior UN officials and representatives from many other groups. Over 50,000 people in total are expected to participate in the Conference and related events.
Read more (in Portuguese).
* The Rio Times Daily Updates feature is offered to help keep you up-to-date with major news as it happens.