By Chesney Hearst, Senior Contributing Reporter
RIO DE JANEIRO, BRAZIL – On Sunday May 17th, the International Day Against Homophobia, in addition to other celebrations and observances in Brazil, caused issues to resurface concerning obstacles currently faced by the LGBT (Lesbian, Gay, Bisexual, and Transgender) community in the country.
The International Day Against Homophobia marks the day that the World Health Organization removed the classification of homosexuality as a mental illness on May 17, 1990.
Since that day, people around the world, including those in Brazil, have celebrated the ongoing advancement of rights for the LGBT community. However, many feel that there is more work to be done.
In Brazil, while the country's Supreme Court ruled to officially recognize stable unions between same-sex couples in 2011, there is currently no national law that criminalizes prejudice and/or discrimination due to sexual orientation or gender identity.
"We have a very serious problem in this country, and that is the absence of a federal law that protects the rights of this population, so it is an invisible population in the eyes of Congress," Heloísa Gama Alves told Agência Brasil.
Alves is the Policy Coordinator for Sexual Diversity for the São Paulo State Department of Justice. The state of São Paulo does have a state law, passed in 2001, which punishes discrimination against people from the LGBT community.
Previously in 2001, deputy Iara Bernardi set out to change things nationally with her proposal of Bill 122. The bill, if it had passed both Houses of the Brazilian Congress, would have grouped cases of discrimination against gender, sex, sexual orientation and sexual identity with cases of discrimination against race, ethnicity, religion and nationality, recognized crimes whose penalties can currently amount to up to five years in prison.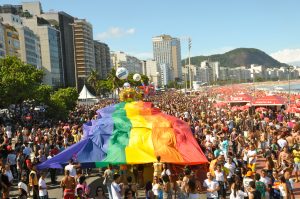 Bill 122 passed in the Câmara dos Deputados (Brazilian House of Representatives) but was struck down in the Senado Federal (Brazilian Senate). "In the Senate, the very conservative religious forces managed to stop the project," said Bernardi.
Between January and April of this year alone, there were a reported 356 complaints alleging rights violations against those in the Brazilian LGBT community, according to data collected by Disque 100 (Dial 100), a confidential national hotline of the Human Rights Secretariat of the Presidency, provided for complaints about human rights violations.
Additionally this year, there have been a reported 25 administrative cases alleging homophobia in São Paulo. Although some of the cases contain evidence of discrimination, proceedings cannot be opened due to the lack of a federal law, according to Alves.
In April, images taken of transgender prisoner Veronica Bolina after she was beaten to the point of disfigurement by police in São Paulo, swept Brazilian social media, outraging many.
With incidents of transphobia and homophobia continuing to make the news in the country, it appears to many as if there have been too few changes in Brazil since the 1990 declassification by the World Health Organization.
Daniela Andrade, a transsexual Brazilian who legally fought and won the right to be recognized by the government as a woman told Agência Brasil, "The community only appears in the media as criminal, as mentally ill, as the man who became a woman, an exotic thing."