By Lise Alves, Senior Contributing Reporter
SÃO PAULO, BRAZIL – Brazil's President Dilma Rousseff arrived in Ufa, Russia on Wednesday for the seventh BRICS summit, where member countries (Brazil, Russia, India, China and South Africa) will launch the New Development Bank (NDB).The five BRICS countries represent one-fifth of the world's economy and holds forty percent of the world's population.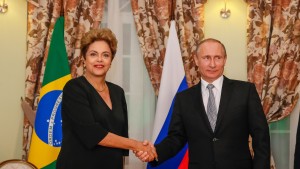 "It will be a special moment for the bloc, with the creation of the New Development Bank," Rousseff was quoted as saying during a meeting with Russian leader, Vladimir Putin.
According to Putin last year the trade between the five countries grew by fifteen percent, and the tendency is of further growth in coming years. In addition to Brazil's Rousseff and Russia's Putin, Chinese leader Xi Jinping, South Africa's Jacob Zuma and India's Prime Minister Narendra Modi are also in the Russian city for the summit.
One of the priorities during this summit is the consolidation of the New Development Bank (NDB) first discussed in June of last year and expected to be operational by next year. According to its architects the objective of the financial institution is to finance infrastructure programs in member countries, reducing these nations' dependency on international financial organizations, such as the IMF or World Bank.
Headquartered in Shanghai, China, the NDB, already dubbed BRICS Bank, will be headed by Indian banker K.V. Kamath. Also to be discussed during the summit will be economic cooperation between the members in strategic areas, such as energy and infrastructure.
Just as Rousseff did when visiting the United States at the beginning of July, the Brazilian leader welcomed Russian investments to Brazil. "Brazil has now an unique opportunity, with its logistics investment plan, to attract Russian companies, which are specialists in ports and rail lines," she said during her meeting with the Russian president.