By Ben Tavener, Senior Contributing Reporter
RIO DE JANEIRO, BRAZIL – Former president Luiz Inácio Lula da Silva has reiterated his support for Brazil's incumbent president, Dilma Rousseff, to run for a second term in office in the 2014 presidential elections. Lula told friends that he has no intention of running in an attempt to dispel speculation that he was planning on making a presidential comeback.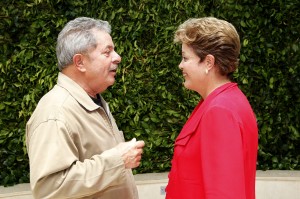 The extremely popular former president, who won the 2002 and the 2006 president elections, said he would help ensure that President Rousseff, a fellow PT (Workers' Party) member, is re-elected next year.
Although President Rousseff enjoys strong approval rates in her own right, Maria do Socorro Sousa Braga, a political scientist at the Federal University of São Carlos (UFSCar) in São Paulo state, says Lula's backing will still be vital in 2014, "[Lula's] support still carries significant weight for a great majority of the Brazilian electorate."
"The government's performance has helped the party maintain extremely high levels of popularity," she explained to The Rio Times.
PT has been instrumental in restructuring the public's perception of the political left and the party's developing of social and economic policies that have lifted as many as 35 million out of extreme poverty have proved largely popular.
Presidents in Brazil can only serve two consecutive four-year terms in office, but may later return, giving rise to questions of Lula returning in 2014. This week will see a big event in São Paulo to mark ten years of PT in power and promote Rousseff's candidacy for a second term in office and publicly bury rumors of a Lula comeback.
At the event in São Paulo, where the party won the hotly-contested mayoral race last year, Lula will attempt to unite PT and allied parties, as well as reviewing PT's achievements over the past decade and discussing the challenges both the party and the country as a whole face in the future. It will act as the first in a series of seminars in thirteen state capitals, including in Rio, most of which are expected to be attended by the president in an unofficial start to her re-election campaign.
One of the soar-points in the party's recent past – the cash-for-votes Mensalão scandal – is unlikely to get a mention, however, as it led to a number of party members being convicted of crimes, including corruption and misappropriation of public funds.
The man convicted of being at the center of the scandal, Lula's former Chief of Staff José Dirceu, who was handed down a ten-year prison sentence but has yet to serve it, will be present at the PT event in São Paulo. An appearance many will be watching with interest as the party leaders work to manage public perception.
Political analysts believe Rousseff's style of leadership, less charismatic but more managerial, has won her widespread support and her speedy reaction to the many corruption scandals that have left other party members fired or facing prison have meant the president has escaped unscathed and gained the image of a president that has fought to clean up politics.
A return for former President Lula to the presidential race would, for many, represent the party playing its "trump card" – to be used if Rousseff were unable to win the election. However, with both President Rousseff and Lula's approval rating remains around seventy percent, analysts believe either could win the election.
According to Ms. Braga, other parties' candidates might include: Aécio Neves (PSDB); Geraldo Alckmin (PSDB); Maria Silva (from the new Rede Sustentabilidade); Eduardo Campos (PSB); Michel Temer (PMDB).