By Juliana Tafur, Contributing Reporter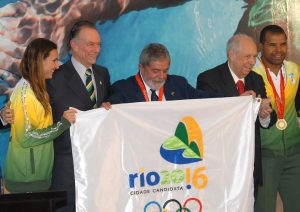 RIO DE JANEIRO – The entire world waits for the International Olympic Committee (IOC) to decide which city will host the greatest sports event on earth in 2016. Rio is watching closely, counting the days until the final verdict comes from Copenhagen on October 2. Chicago, Madrid, Tokyo and Rio are all on the committee's short list, but Brazilian President Luiz Inácio Lula da Silva says the time has come for a South American country to be a part of the Olympic and Paralympic legacy.
"We can't accept the idea that the Olympic Games belong exclusively to rich countries," Lula said earlier this month at the Brazilian Embassy in Paris. "I respect all the other candidates, but I think Rio de Janeiro deserves this chance."
This is the first time the city makes it to the candidature stage, after four failed attempts in 1936, 1940, 2004 and 2012. The Brazilian Olympic Committee (BOC) has designated four groups to coordinate sporting venues, hotel accommodations, transportation and environmental concerns. Proposed projects include renovating Rio's port and surrounding areas, as well as fast-tracking the Guanabara Bay clean-up and West Zone's sanitation system.
Holding the Games in Rio de Janeiro will also strengthen programs like Favela-Bairro, which focuses on urbanizing low-income communities by providing street paving, transportation, electricity, gas, water and sewerage. Other projects that will benefit the city include new track and field grounds and the construction of a water park in Maracanã, as well as an Olympic park near the Metropolitan Center. The Olympic park will fit more than 200,000 people and will include commercial and office buildings.
"The point is to make up for all the delays Brazil has incurred over the last twenty years without investing in infrastructure. We will do this independently of the Olympics, but of course with the Olympics we will have to make new investments," said Lula.
One of such new investments is a high-capacity, high- frequency bus transit system designed by the BOC. The committee says this transportation alternative will run at a significantly lower cost and will be capable of meeting all city needs. The buses will operate on an exclusive corridor of segregated lanes, with boarding and disembarking stations at convenient locations.
Resulting from the XV Pan American games, held in Rio in 2007, the city now has state-of-the-art sporting facilities, such as the Maria Lenk Aquatic Park and the Velodrome. If Rio were selected to host the 2016 Olympic Games, these sporting venues would become part of the Olympic Training Center, to be built over a ninety-hectare (220-acre) area.
Recognizing the benefits of the Olympic Games for Brazil, soccer star Pelé makes his case: "It's a great pleasure to be here in full health defending Rio's bid… We know there's tough competition, but we are doing pretty well… So let's get together, all of us Brazilians, with positive thoughts in our minds, to win this great battle."
Some Brazilians, however, aren't so positive. On the BOC website, Ana Rita Brunoro asks: "I'd like to know if there will really be a concrete policy in regards to the clean-up of the Barra [da Tijuca] and Jacarepaguá lagoons, or if it's only pretense, as was the case in the Pan American Games?"
Alternatively, some Cariocas believe the Pan American Games served to strengthen Rio's reputation as a hub for regional sports. Tiago Pereira, who represented Brazil in swimming at this international multi-sport event, says,"I'm sure that after delivering the Pan American Games, Brazil is fully qualified to host the Olympic Games. And I wish it the best of luck, hoping to be there in 2016."