By Beatriz Miranda, Contributing Reporter
RIO DE JANEIRO, BRAZIL – Yesterday, October 9th, MetroRio inaugurated an integration measure with the vans of the favela communities of Rocinha and Vidigal, in Zona Sul. Users of both transportation facilities will now pay R$5 for the joint trip MetroRio + the van track "São Conrado x Jardim de Alah", saving R$2,90 in regards to the original price.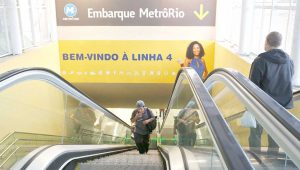 The agreement was signed last Friday, October 6th, by Rio's Municipal Bureau of Transports, MetroRio and the vans' licensed drivers.
The discount was entirely funded by MetroRio's state management, and had already been planned for in the economic study detailed for the construction of MetroRio's Line 4.
In the first three months, users will pay R$5 for the joint trip. After this period, the integration MetroRio + van track "São Conrado x Jardim de Alah" will cost R$5,55, which consists in a saving of R$2,35 per joint trip and R$103,40 per month (considering an average of 22 working days).
"The concept of this partnership between MetroRio and the vans is to strengthen the role of each mode of transport, both the local and the high capacity ones. It is the duty of the public authorities to accomplish integration actions that respond to the population's demands, regardless of the governamental level that regulates each service," states Rodrigo Vieira, State Secretary of Transports.
In order to have access to this benefit, passengers must use the RioCard, and the integration trip must be done within a maximum period of two and a half hours, in the Metro stations of São Conrado or Jardim de Alah.
Rio's City Hall says that 66 vans are authorized to operate along with MetroRio. The licensed vehicles are identified with yellow stripes on its sides, belonging to the Serviço de Transporte Público Local (Local Public Transport's Service – STPL).
"The intermodal integration is the best solution for Rio's mobility. The Metro is a high capacity mode that needs feeder modes of transport, and the vans do meet this need, complementing the Metro's track," says Guilherme Ramalho, MetroRio's president.