By Jay Forte, Contributing Reporter
RIO DE JANEIRO, BRAZIL – A recent report came to light last week (December 4th) stating that of the estimated 1,001 favela communities in Rio, nearly half are being controlled by illegal militia gangs – organized crime rings typically composed of current or ex-police. Five years after the UPP (Police Pacification Unit) program launched, the study illustrated how much further there is to go to achieve peace in the city's most violent communities.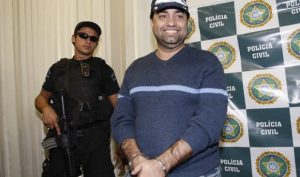 The study draws from the 2010 Census by IBGE to define the number of favelas in Rio, which also lists that 22 percent of the citizens of Rio de Janeiro live in such communities.
The new report defines 454 communities, or 45 percent of Rio's favelas, as still controlled by militias. The next largest group is 370 communities, or 37 percent still controlled by drug traffickers and just 174 communities, or eighteen percent have the UPPs.
The report was the product of anthropologist Alba Zaluar, together with a team from the Institute of Social and Political Studies (IESP) of UERJ (Rio de Janeiro State University) and Christovam Barcellos, coordinator of Health Information Laboratory of the Institute of Communication and Scientific and Technological Information (ICICT), Fiocruz.
Alba Zaluar explained at an event, "Militias dominate the scene. But we must emphasize that the favelas have different dimensions, more or less. And different populations. This data, however, it is important to scale what needs to be done in the city."
The survey also shows that only six favelas that have undergone the process of pacification have seen an end to drug trafficking : Chapéu Mangueira and Babilônia, in Leme; Batan and Avenida Brasil (in Batan), in Realengo; Camarista Méier, of Engenho de Dentro; and Morro Azul, in Flamengo. Furthermore, according to the study, only 23 of the 174 favelas with UPPs have unarmed drug traffickers.
Still, few argue the UPP program has not made a positive impact on reducing violent crime rates, as well as increasing local commerce. A September 2012 study released by the Laboratório de Análise de Violência (Laboratory for the Analysis of Violence) at UERJ (University of the State of Rio de Janeiro) found that the inauguration of the UPPs have reduced the rates of violent deaths, such as homicides, deaths in encounters with policemen and during home robberies, by up to 78 percent.
Unfortunately the same report showed that in the vacuum of drug trafficker control, there had been an increase in violent non-lethal acts. Threats increase from 29.4 to 99 per 100,000 inhabitants, while rape indices went from 1.3 to 4.8 and domestic violence shot up from 27 to 84.6.
Another criticism of the UPP program is the rash of abuse and corruption scandals, most recently the torture and murder of a Rocinha bricklayer leading to arrests of UPP officers. In response the city instituted an additional policing force, the Pacifying Police Coordinating (CPP) team to work within and around the UPPs in various favela communities, in a concerted effort to rebuild the police force's credibility and curtail corruption.
In regards to why the militia has not penetrated some well-known favela communities, Rocinha native and operator of Favela Adventures tours, Renato da Silva, better known as Zezinho, tells The Rio Times, "The militias are corrupt off-duty police or firemen that go into favelas and take over, kick out the drug dealers and impose a tax on everything in exchange for 'security'… I think they only control favelas they think they can take over. I think Rocinha is too big."
A report in July 2011 indicated militias were responsible for almost half of the homicides in Rio. Figures from the special Divisão de Homicídios (Homicide Division) show that 45 percent of the murders in Rio de Janeiro in 2010 were committed by militias, more than the drug gangs that had traditionally controlled crime in Rio's favelas.
Militia groups have not made major headlines since 2011 when local politician, State Deputy Marcelo Freixo, was forced to flee Brazil for fear of retaliation for his campaign to fight these organized crime groups. It was also suspected that the militias were responsible for the assassination of a siting judge Judge Patrícia Acioli in Niteroi, who had also attempted to take a stand to control their criminal influence.