By Julia Averbuck, Contributing Reporter
RIO DE JANEIRO, BRAZIL – Yesterday in her weekly radio show "Café com a Presidenta" ("Coffee with the President"), President Dilma Rousseff announced that in August the government's housing project Minha Casa Minha Vida ("My House My Life") has reached one million houses built.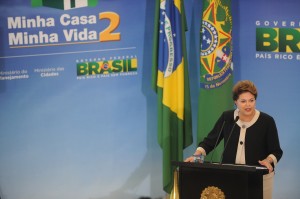 This initiative, which started with former President Lula, will contract 3.4 million houses by 2014. President Rousseff explained that "one million houses were contracted under President Lula and 2.4 million will be contracted during my presidency." Since she took office in January of 2011, and 860,000 houses have been contracted thus far.
"To invest in dignified housing for the population is to invest the protection and security of the families. Home ownership contributes to the well being of the family, to the security of children and youth, and to the development of ties between family and friends," added President Rousseff, emphasizing why the initiative is seen as a priority for her administration.
By 2014, the government plans on spending R$150 billion in helping finance homes through Minha Casa Minha Vida. The initiative benefits families making up to R$5,000 a month and finances up to 95 percent of the property costs for families living with incomes of up to R$1,600 a month.
The president also emphasized that families who have lost their property in natural disasters, such as flooding or landslides, are receiving priority in attaining financing for their homes.
According to President Rousseff, this is also an investment in the Brazilian economy. "Every house, in order for it to be built, needs cement, bricks, sand, wire taps, ceramic, paint and other materials. To provide these materials, industries across the country have to hire more workers and increase production of its factories. Minha Casa Minha Vida helps all of Brazil by making the wheel of the economy turn."
Listen to Café com a Presidenta here (in Portuguese).
* The Rio Times Daily Update is a new feature we are offering to help keep you up-to-date with major news as it happens.