By Jay Forte, Contributing Reporter
RIO DE JANEIRO, BRAZIL – Following a welcome downward trend in homicide statistics for Rio de Janeiro, the state Institute for Public Safety (ISP) reported that 324 people were killed in February, the lowest since 1991. That was the first year this data series was collected and the murder rate has fallen 55.74 percent since February that year, when there were 732 deaths.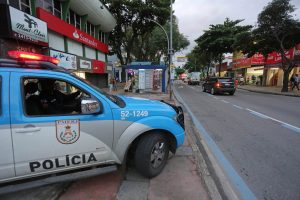 The same month last year recorded 482 homicides, which represents a 32.8 percent year-over-year reduction. The figures were made public yesterday (March 20th) and represent occurrences recorded in the civil police stations across the state.
In general crime rates in Brazil are high when compared to rates in other countries. In 2012 Brazil registered 22.8 homicides per 100,000 inhabitants, much higher than the World Health Organization considers an acceptable average: ten homicides per 100,000 inhabitants.
However for many foreigners in Brazil that number represents a higher statistic than their daily exposure to risk, as Brazil's capital state cities are not ranked highly in most crime rates. Smaller cities that are not as frequently visited by foreigners are often considered more dangerous as the number of murders per capita are higher.
In further demonstration of this point, in Rio de Janeiro, it was reported that the city had a rate of 24.3 homicides for every 100,000 inhabitants in 2011. Yet while the homicide rate for Zona Norte (North Zone) of the city was 47.9, the homicide rate for Zona Sul (South Zone) – where most foreigners are concentrated – was only 2.4.
For February 2015 the new ISP data showed Rio de Janeiro state also had reductions in the number of violent deaths (-23.8 percent), vehicle theft (-17.6 percent), theft passersby (-1.3 percent), theft to residential (-44.3 percent), theft commercial establishments (-23.2 percent) and rape (-37.7 percent).
For cases of homicide resulting from police action, the so-called "acts of resistance", the indicator reported an increase of 48.2 percent, from 56 in February 2014 to 83 in the same period this year. At the same time, since the beginning of the 2014 to December 2014, more than 106 police officers had been killed in Rio's Metropolitan area. Since January, 57 police officers were shot in Rio, and of these, seventeen died.
In early February Rio de Janeiro's Ministry of Justice has announced that the city will spend R$350 million on security for the 2016 Olympic Games over the three years of preparation for the event. Around R$100 million of that budget has already been spent on new equipment.