By Sarah de Sainte Croix, Senior Contributing Reporter
RIO DE JANEIRO, BRAZIL – A small favela known as Matinha that sits next to up-market São Conrado has been earmarked for demolition by Rio de Janeiro's city council after a study by Geo-Rio (the city's Geotechnical Institute) found that 100 percent of the houses were located in areas at a high risk from landslides.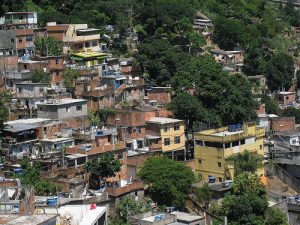 The council is hoping to leverage PAC (Program of Accelerated Growth) funding earmarked for neighboring Rocinha to relocate the families currently living in Matinha.
According to the Geo-Rio report, 20 houses have been surveyed in the favela. AMASCO (The Residents Association of São Conrado), on the other hand, estimates that there are around 42 individual structures in total, housing approximately 20 families.
According to a report by O Globo newspaper, the favela is one of nine communities mapped by Geo-Rio with 100 percent of the buildings in risk areas. These communities encompass 17,244 homes across the city.
An April 2010 period of heavy rains in left an estimated 230 people dead and 4,000 homeless in the city of Rio after mudslides destroyed several favela communities.
In January 2011 the State of Rio de Janeiro witnesses the worst natural disaster in Brazil's history when heavy rains and mudslides left over 1,000 people dead and missing in the mountain region hours outside of the city known as Região Serrana.
Read more (in Portuguese).
* The Rio Times Daily Update is a new feature we are offering to help keep you up-to-date with major news as it happens.