By Ben Tavener, Senior Contributing Reporter
RIO DE JANEIRO, BRAZIL – Bathers on Copacabana and Arpoador beaches making the most of the glorious sunshine and heat yesterday were met by black patches in the sea, as well as what looked like trash floating in the surf. Aerial pictures on local TV appeared to show swathes of polluted water affecting the coastline, while environmental warnings were issued to avoid swimming in certain areas.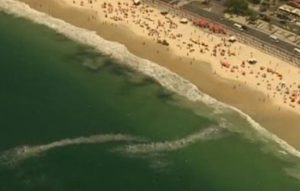 The Instituto Estadual do Ambiente (INEA, State Environment Institute) said an emergency team was dispatched to take samples of the water, but no results have yet been released.
The INEA had given the all-clear to seven beaches in Rio's Barra and Zona Sul (South Zone) districts for this weekend: Grumari, Prainha, Recreio, Barra da Tijuca, Diabo, Copacabana and Vermelha, with restrictions in place on Arpoador (one of those affected by the "pollution") and Pontal de Sernambetiba.
But the institute had also said to steer clear of beaches in Barra de Guaratiba, the stretch between Quebra-mar and Pepê, Joatinga, Pepino/São Conrado, Vidigal, Leblon, Ipanema, Leme, Urca, Botafogo and Flamengo beaches.
Warnings had been previously issued not to bathe for 24 hours following heavy rain. Zona Sul locals are familiar with pollution occasionally affecting the water around the canal (between Leblon and Ipanema), and the areas of Botafogo and Flamengo are never recommended for swimming.
Read more (in Portuguese).
* The Rio Times Daily Update is a new feature we are offering to help keep you up-to-date with major news as it happens.