By Ben Tavener, Senior Contributing Reporter
RIO DE JANEIRO, BRAZIL – Brazilians in fifty cities, seventeen of which are state capitals – including São Paulo – head back to the polls for the second round of voting in the 2012 municipal elections on October 28th. In the lead up, Rui Falcão, the national president of the ruling Partido dos Trabalhadores (Workers' Party, PT) has warned against using Supreme Court (STF) judgments from the mensalão trial against his party.
Falcão says that the real impact of the mensalão judgments at polling stations would be "far from easy to quantify" and that any attempts to use the ongoing trials over the vote-buying scandal to attack petistas (PT members) that have been condemned, would amount to little more than a "smoke screen".
The party president also said that PT had done well in the first round of voting; the party will compete in 22 of the fifty run-offs, including for mayor of state capitals Salvador (Bahia), Fortaleza (Ceará), João Pessoa (Paraíba), Rio Branco (Acre), and Cuiabá (Mato Grosso).
No second round vote is needed in nine state capitals, including Rio after incumbent Eduardo Paes was comfortably re-elected in the first round. The biggest second-round fight is the race to become São Paulo mayor, where Fernando Haddad (PT) will vie for the position alongside José Serra (PSDB).
Despite coming second in the first-round vote, Hadded appears to be in the lead after the first Ibope opinion poll since the first round gave the PT candidate 47 percent of the vote; 37 percent said they would vote for Serra. Education and transportation are the most important topics for Paulistas, according to researchers.
Serra, who left his role as São Paulo governor to go head-to-head with Dilma Rousseff (PT) in the 2010 president elections, said his rival had been tarnished by the scandal and launched a scathing attack on Haddad's party (PT) on Monday saying: "We [the PSDB] are the non-mensalão team. São Paulo doesn't have to kneel or service as a 'smoke screen' for anyone."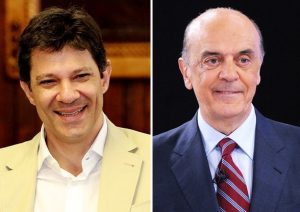 Haddad hit back at Serra and distanced himself from those in this party who have been tainted by the scandal, saying Serra "wanted to tarnish a person's reputation because of what happened to someone else." Falcão described Serra as being "malicious" and as having "hatred in his heart."
The mensalão trial, which began in August this year, has so far condemned 25 of the 37 defendants on counts of misappropriation of public funds, mismanagement, money laundering, inter-party corruption, bribery (active corruption) and tax evasion.
Of those condemned so far, perhaps the most notable are: Lula's former Chief of Staff José Dirceu, who has been accused of forming the cash-for-votes scheme; businessman Marcos Valério; former PT Treasurer Delúbio Soares; and whistleblower Roberto Jefferson, who exposed the scheme in the first place as a retaliatory act for accusations of his involvement in a separate corruption scandal.
Despite recent accusations to the contrary by Marcos Valério, made following his own conviction, Lula has denied all knowledge of the scheme. Some of the defendants have been many found not guilty of the alleged crimes, most recently publicist José Eduardo "Duda" Mendonça and his business partner Zilmar Fernandes – both acquitted on charges of money laundering and tax evasion.