By Laura Madden, Contributing Reporter
RIO DE JANEIRO, BRAZIL – The death toll in the multiple building collapse on Wednesday night in Rio de Janeiro's Cinelândia area of Centro remains at six, according to the Medical-Legal Institute (IML). A Globo TV report early Friday morning lists the number of people missing at 27 in total.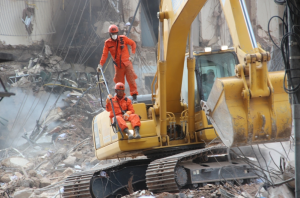 On Thursday morning, the secretary of Rio de Janeiro state's Civil Defense, Colonel Sérgio Simões confirmed in an interview with Rede Globo Television that the twenty-story building — one of the three that collapsed — was having construction work done on it.
"A survivor who was rescued was part of the construction job," Simões told Rede Globo.
"He was pulled from the elevator car. He was doing construction work, and as he was about to get off the elevator on the sixth floor, he felt the building was about to collapse, so he got back into the elevator. The elevator fell with him inside."
Investigations into the cause of the accident have not yet been completed. Reports indicate the most likely suspect is a renovation effort being made on one of the floors of the tallest building which collapsed, setting off a chain reaction.
The current assessment is that the renovation, which occurred two months ago, led to the withdrawal of support beams weakening the structure of the building.
Rio de Janeiro state's Regional Engineering and Architecture Council (Crea) is investigating who is responsible for the construction work.
Rescue workers raced against the clock to find survivors and pull them from the rubble. Lieutenant-colonel Julio César Mafia, the official at the Military Police's headquarters that works with rescue dogs told O Globo he believes it's still possible to rescue missing people.
The area blocked off around the collapsed buildings was expanded on Thursday morning due to the risk of a possible gas leak.
A fourth building, about two blocks away on Rua Senador Dantas, was evacuated when workers in the building complained of smoke and a strong burning smell in the nine-story building.
President Dilma Rousseff expressed her solidarity while at an event in Porto Alegre in Rio Grande do Sul state, according to Agência Brasil.
"I'd like to express my solidarity with the people of Rio de Janeiro and in particular with the family members of those affected by this catastrophe."
Read more (in Portuguese).
* The Rio Times Daily Update is a new feature we are offering to help keep you up-to-date with major news as it happens.