By Jay Forte, Contributing Reporter
RIO DE JANEIRO, BRAZIL – Although real-life criminal legends like Ronnie Biggs and many Hollywood films portray Brazil as a destination for illegal immigration, a recent report by O Globo shows the borders are not open to everyone. According to the Brazilian news outlet, in 2015 the federal police immigration at Rio's Tom Jobim/Galeão international airport blocked 433 international visitors.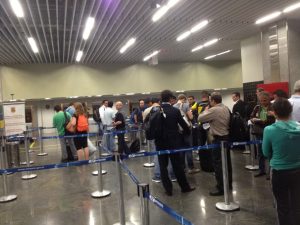 Perhaps not surprisingly due to size and proximity, the exclusive O Globo research shows that from the total, the largest group of foreigners that did not pass immigration was from the United States, with 141. The Chinese were in second place with 68 cases.
Canadians made up 37 cases of not being allowed to enter in the country through Tom Jobim airport. Europeans also appear in the list, as well as Africans. The reason for not being granted access was for the Americans, almost always not having their Tourist Visa.
A representative for Federal Police of Rio International Airport, Rita Favoreto told O Globo that, in most cases, is the lack of information that leads foreigners are not allowed in the country.
"The control of immigration needs to be strict in any country. In Brazil, we can not be different. Many arrive here without a visa. If the authority considers that the presence on national territory is inconvenient, the entry may be prohibited," Favoreto explained.
Daniel Song, an American who had to cancel his trip last-minute to Brazil for lack of a visa told The Rio Times, "As an American who has traveled extensively (dozens of countries across every continent minus Antarctica), I've learned that first world countries with reasonable relationships with the U.S. typically do not require U.S. citizens to obtain a visa for short stays."
He adds, "My attempt to travel to Brazil proved my theory wrong. Also, when I purchased the ticket I did not receive a 'visa required for U.S. citizens' type message that I have for countries that do require visa, i.e., China." In Mr. Song's case he learned about the visa requirement ten days before his planned travel, which was not enough time to get a tourist visa processed, so he changed his plans and went somewhere else.
To help with Tourist Visas during the 2016 Olympics (August 5 – 21st) the President of Brazil, Dilma Rousseff, sanctioned a bill in November that allows the Ministries of Tourism and Foreign Relations to determine the exemption of entrance visas to tourists coming to see the 2016 Olympics and Paralympics in Rio de Janeiro.
According to the Ministry of Tourism the decision could lead to a twenty percent increase in foreign tourists to Brazil during the games. The visa requirement would be exempt for tourists entering Brazil until September 18th, 2016 and valid for ninety days.
Beyond the visa oversight, in 2009 Brazil announced the launch of the 'Fim da Linha' (End of the Line) initiative by the federal government. The program was designed to combat both the reputation and reality Brazil has for being a haven for international criminals seeking refuge from the law of their home countries.
The areas of sex tourism, child pornography, and drug trafficking are be given particular attention. The primary goal of the project was to connect Brazil's security institutions with an international private internet-based network called the I-24/7, which will link concerned agencies with those of 187 countries worldwide.