By Mary Bolling Blackiston, Contributing Reporter
RIO DE JANEIRO, BRAZIL – The Prefeitura do Rio (Rio town hall) held a meeting last Friday (May 2nd) at Centro de Operações in Centro, to promote the "Procedures Manual" of the World Cup. At the meeting, a wide range of issues were discussed, such as transport, cleaning and safety; such issues are outlined in the manual.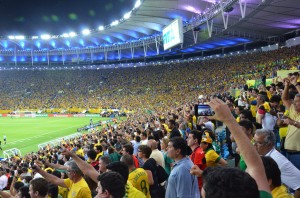 According to Embratur (Brazil's tourism organization), Rio will receive around 600,000 tourists for the Cup. Furthermore, about 56 percent of the tickets for the World Cup matches in Rio have been sold to foreigners.
Game-watchers should be aware that alcoholic beverages are prohibited in Maracanã and anywhere within a 1,000 meter radius of the stadium.  This rule is valid from up to five hours before the stadium opens and two hours after the events finish. Anyone who disobeys this rule may be kicked out of the stadium or prohibited entry.
In regards to transportation, the subway and the BRT will be the principal methods of transport for fans to get to the stadium. The city is dependent on the construction of integration between the subway and the train, but guarantees that everything will be functioning.
Tourists coming from the Tom Jobim International Airport, heading straight to the stadium, are recommended to use the BRT station in Vicente de Carvalho, the Zona Oeste (West Zone) of Rio. The BRT Transcarioca will be ready for the World Cup, but there is no guarantee that all stations will be functioning at that time.
For parking, there will be a block for cars and buses to park around the stadium. The routes will be partially prohibited within six hours before the start of the game, and completely prohibited four hours before. Additionally, about twenty streets will not have any parking available during the World Cup games.
Read more (in Portuguese).
The Rio Times Daily Update is a feature offered to help keep you up-to-date with major news as it happens.