By Melissa Rossi, Contributing Reporter
RIO DE JANEIRO, BRAZIL – On Sunday, the Cidade Maravilhosa has become even more marvelous in the eyes of the world. In the first decision of its kind, Rio de Janeiro's breathtaking natural landscapes were awarded the UNESCO World Heritage title during UNESCO's 36th World Heritage Committee Session held in Saint Petersburg, Russia.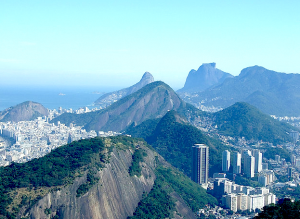 Locations listed as "Rio de Janeiro: Carioca Landscapes between the Mountain and the Sea" are now a UNESCO "Cultural" heritage site. An exceptional decision considering that it consists of a multitude of natural landmarks rather than a single constructed urban area.
Among the most important areas cited in the UNESCO decision are Rio's Tijuca National Park, the Botanial Gardens, the Corcovado Mountain and the hills around the Guanabara Bay.
According to Brazilian news O Globo, Ana de Hollanda, Brazil's Minister of Culture, stated that this new victory will open the doors for Brazil to build a new cultural heritage map:
"Given this award, and the challenges that it represents, we would like to share our happiness with the world community. For Brazilians, this convention represents much for the future, but in terms of landscapes it is impossible to advance in the establishment of cultural policies without grasping the relation between people and their environment."
"This victory will allow us to build a new cultural heritage map, breaking away from a historicist view and substituting it with a broader understanding of the world," she said.
President Dilma Rousseff was also reported to have called Rio de Janeiro governor, Sérgio Cabral, and the city's mayor, Eduardo Paes, to congratulate them and the people of Rio de Janeiro for this outstanding recognition.
In an official note, President Rousseff declared that Rio's world heritage title has arrived "in a moment in which Rio de Janeiro has shown competence and capacity to administer and host important national and international events, such as Rio+20, which just took place, the World Cup in 2014 and the 2016 Olympics."
Read more (in Portuguese).
* The Rio Times Daily Updates feature is offered to help keep you up-to-date with major news as it happens.