By Patricia Maresch, Senior Contributing Reporter
RIO DE JANEIRO, BRAZIL – As the host of the 2014 World Cup Finals and the 2016 Olympic Games, Brazil is busy preparing for the big events by building new airports, stadiums and metro lines. New modern office buildings and residential projects have rose throughout its cities, and it seems as if Rio de Janeiro has slowly turned into one huge construction site. Despite the fact that a lot of work is getting done, there are some major concerns.
The magazine Veja recently reported that one of the city's projects, the Museu do Amanhã (Museum of Tomorrow), will not be finished on time. In addition, several other projects run either behind schedule or will surpass their budget.
The Museu do Amanhã is situated at Pier Mauá in Rio's Port Zone, which is receiving a major makeover. The museum is a R$200 million (US$123 million) futuristic structure designed by Spanish architect Santiago Calatrava.
It should have been finished in August next year, when world leaders will be in town for the Rio +20 UN Conference on sustainable development. This, however, will not happen, admitted a spokesperson at City Hall.
"Unfortunately, there are no conditions to receive the conference [at the museum]," he said. Works are delayed because the contractors have not been paid on time by the city. At this point the conference is planned to be held at another venue.
Another big problem are the passarelas (pedestrian bridges) over the Avenida Brasil, Rio's main highway. Engineering Council CREA-RJ has demonstrated that almost every one of the thirty passarelas has defects. They are potentially very dangerous for pedestrians as well as traffic on the Avenida Brasil.
A passarela in Rio's Zona Norte, in Bonsuccesso, has broken in two in May and nothing has been done so far to repair it. CREA-RJ's Antonio Eulálio Pedrosa told local news station RJ-TV that Rio's state government has transferred responsibility over the passarelas to the City, but city officials have thus far taken no action to repair the damaged passarela.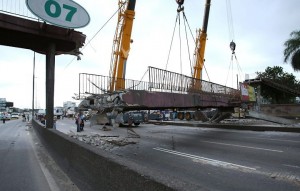 "The city has created a very unsafe situation for people who need to cross the Avenida Brasil to go to work, school or get home," Pedrosa said.
Most Cariocas are not surprised by the delays. In the past, they have seen that overruns on time and budget are the rule rather than exception when it comes to public works. The reasons may be legal, technical, political, bad planning or corruption.
One resident, 56 year-old Luis Sampaio, said: "We are dealing with a city that is run by people who promise much, but act little. Our representatives at City Hall should oversee and control everything, but what do they do?" he asked rhetorically.
Another concern is the reconstruction of the Maracanã Stadium especially after last week 2,100 workers went on strike. The reconstruction of the Maracanã is estimated at R$1 billion (US$600 billion), which is an increase of about 25 percent of the initial plan.
The stadium has to be ready by 2013 to host the Copa das Confederações (Confederations Cup). But, more importantly, it will host the 2014 World Cup Final, and possibly the Opening game as well.
President Dilma Rousseff said in her weekly radio-column that nine of the twelve stadiums to be used in the 2014 World Cup should be completed by December 2012. She explains: "The reform and construction of stadiums are in their proper rhythms."