By Ben Tavener, Senior Contributing Reporter
RIO DE JANEIRO, BRAZIL – Between 2010 and 2020 Rio de Janeiro will need to invest some R$15.8 billion (US$9.15 billion) in both public investment and private funding to modernize and expand its transport network, develop favelas and underground gas supply lines. That is the conclusion of a host of experts interviewed by O Globo newspaper after a series of incidents highlighted the city's struggling infrastructure.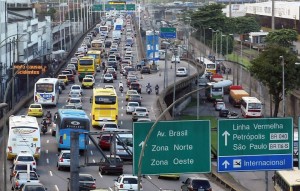 The most tragic including 23 dead in the multiple building collapse on Avenida Treze de Maio. The regulating body CREA-RJ has struggled to keep up with a 26 percent growth of construction projects over last year.
Also, locals need no reminding of the all-too-frequent disruption to journeys made by train, metro or boat services, or of Rio's traffic jams.
The train system has just experienced another incident of protests after malfunctions left passengers stranded in non-air conditioned cars last week, this just months after the SuperVia dealt with protesting near the Oswaldo Cruz station.
For the experts, problems with the city's infrastructure started in the 1980s economic crisis, where many people who retired, for example, were not replaced, and Rio has yet to recover to the same sized workforce.
The experts also pointed to populist governments who failed to adopt sustainable policies – saying all major Brazil cities, to some extent, suffer from a "lost decade."
The lack of investment in public transport in the past and the privatization of the systems in the 1990s was insufficient and did not have the desired effect, the experts conclude.
City officials now say the situation is being reserved as the government is taking a more active role in the matter, generating investment and renegotiating contracts – spurred on by the arrival of major sporting events in the coming four years.
Read more (in Portuguese).
* The Rio Times Daily Update is a new feature we are offering to help keep you up-to-date with major news as it happens.