By Lise Alves, Senior Contributing Reporter
SÃO PAULO, BRAZIL – New QR codes are expected to be one of the highlights of those going to Rio de Janeiro's São Jõao Batista Cemetery this Monday, November 2nd, when Brazil celebrates memorial day. The QR code (Quick Response) technology is a mobile phone readable bar code that can store data, including text and website URL's for example, and have become popular at museums and cemeteries in many parts of the world.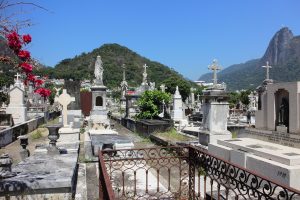 According to cemetery's officials QR codes have been placed on the tombstones of approximately 150 famous personalities buried there like Santos Dumont (believed to have flown an airplane before the Wrights Brothers), painter Candido Portinari, actress Carmen Miranda, and composer Tom Jobim.
The QR codes, unveiled this Memorial Day, will also be available to those whose loved ones are buried at the cemetery and want to tell visitors a little more about the individuals.
"Today with the new technology it has become easier to eternalize the memory of our ancestors. It is a nice and modern tribute that families can leave to future generations," said Lourival Panhozzi, cemetery director.
According to Panhozzi in addition to the QR codes, there will also be guided free tours of the cemetery once a month. According to cemetery officials historians will guide visitors through Rio de Janeiro and Brazil's history by visiting tombstones of some of Brazil's most famous politicians and celebrities.
"The São Jõao Batista Cemetery is Rio's Pére Lachaise," says Panhozzi, comparing Rio's cemetery to Paris' famous burial ground, which attracts annually hundreds of thousands of visitors.
Inaugurated in 1852 by Portuguese Monarch Pedro II, São Jõao Batista, located in the Botafogo neighborhood, is one of Rio's oldest cemetery. Cemetery officials expect more than 120,000 visitors during this year's Memorial Day.