By Patricia Maresch, Senior Contributing Reporter
RIO DE JANEIRO, BRAZIL – Militia groups have gained power and become prominent in headlines over the last few years, and now recent reports indicate they are responsible for almost half of the homicides in Rio. Figures from the special Divisão de Homicídios (Homicide Division) show that 45 percent of the murders in Rio de Janeiro in 2010 were committed by militias, other violent deaths were the result of violence by drug traffickers, street fights, crimes of passion and the 'occasional' murders.
The militias are reportedly concentrated in the Zonas Oeste and Norte (West and North Zone) of Rio. Low morale and low pay are considered to have prompted some police officers, firemen and prison guards to look to earn some extra income as militia members.
Initially, the militia's goal was to fill the vacuum left by authorities arranging security for residents and small businesses from drug traffickers. Over time, however, they began demanding payments in exchange. Soon the militias also started controlling the supply of water and cooking gas, pirate cable television, gambling, unlicensed public transport and even real estate in some cases.
Many sources indicate that militias have also moved into the drug and arms dealing business as well, as an extra source of funds. They exert social control over the population, and are known to use brutal methods including torture and massacres to maintain order.
In the Zona Oeste, the report claims most murders were the result of internal disputes and the assassinations of residents and shop owners who do not want – or are unable – to pay the extortion fees. In Rio's Zona Norte, there are more deaths caused by clashes between drug traffickers and militia members in disputes over territory control.
"Militias are more mysterious," says American researcher Andrew Fishman from RioRadar. "[Unlike drug gangs] they don't hang out in the streets with M-16s, they hire snitches and lookouts and work through residents' associations. They're less of a known entity and have a reputation for dealing with their enemies brutally."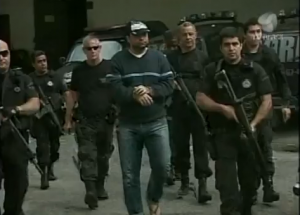 The blockbuster film Tropa de Elite 2: O Inimigo Agora é Outro (The Enemy Within) from director José Padilha is about the huge threat that militias pose in Rio. One of the authors of the book on which the film is based, political scientist Luiz Eduardo Soares, considers militias the biggest threat to Brazil's safety and democracy.
Soares explains: "This mafia prevents the proper development of the state and generates a democratic crisis that goes far beyond the scope of police activity. It is the largest and most dangerous threat against the democratic state of law."
The Rio state government has been cracking down on militias, in addition to drug traffickers, as part of its public safety policy. But the close ties between the militias and law enforcement cause a serious problem for the authorities' anti-militia investigators.
In April this year, newspaper O Globo reported that one of Rio's biggest militia leaders is still commanding his group from prison. Ricardo Teixeira da Cruz, better known as Batman, apparently continues to give orders to his organization Liga da Justiça (Justice League) from his prison cell in Campo Grande (Minas Gerais). Batman, like many other militia leaders, is a former member of Rio's Military Police.