By Lise Alves, Senior Contributing Reporter
RIO DE JANEIRO, BRAZIL – With the start of summer and the warmer, more humid weather descending on Rio de Janeiro, state authorities are starting to worry about diseases caused by the Aedes Aegypti mosquitos.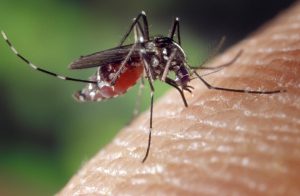 The mosquitoes cause at least three serious viruses: dengue, Zika and chikungunya. Unlike at the beginning of 2016, when authorities were worried about Zika infection and the effects the virus would have on the Olympics, this year officials say their main worry is the chikungunya.
"We've had dengue virus around since 2011 and a large part of the state's population is already immune against this virus. Zika (virus) also circulated in an intense manner during 2015 and 2016. Now it's time for chikungunya; it's the one we are worried about in 2017," said the head of Rio de Janeiro's Epidemiological and Environmental Surveillance Center, Alexandre Chieppe.
"This is the virus which is most worrisome because it is a relatively new virus in Brazil. The population of Rio de Janeiro has not had much contact with this virus, so people do not have immunity against it," the official added during a TV interview.
Data from the state government shows that from the beginning of January 2016 to December 6th, there were 15,265 suspected chikungunya cases in Rio state, with 10 deaths attributed to the virus.
These numbers are significantly higher than those registered during the previous year, when 105 cases of the disease were recorded due to chikungunya were recorded without any deaths. Officials worry that if the numbers at the beginning of 2017 further increase, it may become an epidemic.
According to Chieppe, the symptoms for chikungunya are very similar to that of dengue and there have been many cases where people have been wrongly diagnosed with the latter. The most distinguishing symptoms of the virus, according to the health official, are a sudden high fever and strong pains in the major joints of the body.
Unlike dengue, which has no long-lasting effects, the official warns that persons infected with the chikungunya virus may develop chronic joint problems for months or even years. "We have seen some people who months after being infected are still unable to perform simple tasks such as holding up a glass of water," said Chieppe.
State officials have not yet announced whether they will take extra steps to destroy the mosquitos' breeding grounds before the very hot and humid days of summer set in Rio de Janeiro.