By Lisa Flueckiger, Senior Contributing Reporter
RIO DE JANEIRO, BRAZIL – The parliament of Rio de Janeiro, ALERJ, has approved a law punishing the openly carrying of so-called armas brancas (white weapons), including knives, pocket knives and daggers in the entire state. Governor Luiz Fernando Pezão now has fifteen days to sanction or veto the law.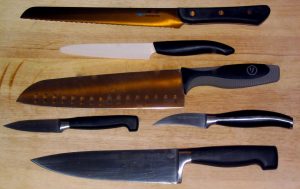 According to the law, the police can apprehend anyone who openly carries a cutting object that can be used as a weapon and has a longer blade than 10cm. The person can receive a fine of between R$2,400 and R$24,000.
However, there will be a difference between 'carrying' a knife and 'transporting' one, e.g. holding it in your hand or having it safely stowed in your backpack, in order to protect those people that need knives for their work, such as cooks.
"Anyone carrying [a knife] for the workplace such as a restaurant, in a backpack, that will be allowed. It is different from a person who is walking on Avenida Rio Branco with a machete at the waist. [The knife] can not be in reach of your hand to use it as an offensive weapon," Geraldo Pudim (PR), the author of the law, explained.
The delegate further explained that the punishments in any case will just have an administrative nature and won't go above the fine, as according to the constitution ALERJ can't apply punishments involving detention or jail time. However, he believes it will give the police a reason to stop people who might be searched by the police, although opposition voices were afraid the law would lead to arbitrary apprehensions and injustice.
The creation of the new law is a reaction to several cases in the last weeks, where people were stabbed in order to be robbed. The most prominent cases include a doctor, who died when stabbed cycling at the Lagoa, a student injured with a knife when riding the SuperVia and a man waiting for the bus in Centro.
Rio Governor Luiz Fernando Pezão has now fifteen days to sanction or veto the law. In previous occasions, Pezão has indicated that he would approve of tougher measures against criminals in general, but not of lowering the age of criminal responsibility. Last week, he indicated that he would sanction the law if approved by ALERJ.