By Stephen Eisenhammer, Senior Contributing Reporter
RIO DE JANEIRO, BRAZIL – The Rocinha Mais Verde, or Green My Favela, project, which encourages residents of Rio's largest favela to grow their own vegetable gardens for food, has been asked to present at the United Nations sustainability conference, Rio+20, in June. They will host workshops to raise awareness of the potential breakthrough in food security and aesthetic environment that organic vegetable gardens can create.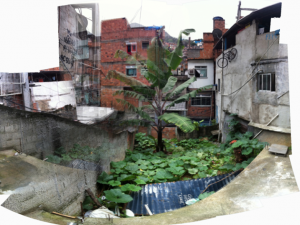 The schedule of the workshops at Rio+20 is yet to be announced, however the NGO (non-profit) said: "We will hold organic gardening workshops for the community, plant fruit trees, a medicinal garden, and re-mediate some of our garden beds that still have poor soil."
Director of Green My Favela and co-founder of Rocinha Media School, Lea Rekow, told The Rio Times: "I think Rio+20 is creating an interface where 'top down policy' meets 'bottom up (grassroots) practice' (at least in theory)."
"Even though the power differential remains, and policy will continue to be driven by prioritizing economics rather than social benefits to community, it allows us to see what we need to do to improve the ways in which favelas can progress positively," she explains.
With Rio+20 just weeks away the city's green grassroots organizations are looking for opportunities to make the most of the imminent international attention the event will bring. Expected to be the largest UN conference the world has seen it is set to attract over 50,000 people, including an estimated 150 heads of state, to Rio.
Rekow describes the opportunity: "Rio+20 also increases debate around a host of issues, including urban planning, sustainability (beyond an ideology of it), the difficulties of integrating informal structures with formal structures, etc. It is bringing together a lot of interesting thinkers across a range of fields, to foster a discussion oriented toward making improvements and finding solutions to social structures."
Rocinha Mais Verde/My Green Favela is a focal point in urban planning challenges, among Rocinha's other difficulties, like security and social inclusion. The favela community of Rocinha has in recent months been hitting the headlines as violence has increased since the army occupied the area last November.
Operating the NGO in Rocinha, Rekow shares; "There is more volatility inside the favela now, though some say there is a climate of less repression – it's hard to remember before and after the occupation."
"On some surface level it appears different – no kids with guns guarding cocaine stalls on the street anymore, but beneath the surface, the same problems continue," she shares.
Although the city has made progress in improving the social services for the community, Rekow feels there is much more to be done: "There is no improvements to infrastructure in place except for perhaps in a token sense […] favelas are in a transitional phase," describes Rekow.
The opportunity is summed up by Rekow by explaining; "Rio+20 [is bringing a] spike in energy and action. So reprogramming physical space – creating an aestheticized space of a garden, or a cultural venue for people to come together, or a fresh educational opportunity – may now allow us to rethink informal squatter space, our roles in constructing it."