By Stephen Eisenhammer, Contributing Reporter
RIO DE JANEIRO, BRAZIL – Rocinha, widely considered Brazil's largest favela community has been occupied since November as part of the pacification program. In recent months the favela has dominated the headlines again with an increase in violence though, and so it is welcome news that the community is hosting a major sporting event May 4th.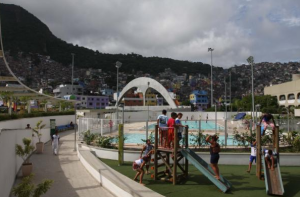 The Complexo Esportivo da Rocinha (Rocinha Sports Complex) will hold the eleventh Bitetti Combat event, an organization founded by black belt and mixed martial arts fighter, Amaury Bitetti 2002.
Part of Rio's 2016 Olympic development program, The Complexo Esportivo da Rocinha, was inaugurated in December 2010 having cost an estimated R$23.7 million. It has served as a symbol of progress, representing the positive shift in the country's policy towards its poorest and least privileged citizens.
The sport center also represents an important element of the pacification process ideal, which in theory is intended to provide social development and public services alongside security.
Zezinho, who grew up in the community and is a director of Favela Adventures, a tour company that offers visits to Rocinha welcomes the arrival of the Bitetti Combat tournament to favela.
"I think any event that encompasses sport or art as constructive activities, shows well for Rocinha. We are tired of only reading about negative things about our favela," he explains.
Although to the uninitiated coaching young people from a notoriously violent neighborhood in ancient fighting techniques may seem strange, Zezinho stresses the unique combination of discipline, fitness and control that comes with this type of training.
"Martial arts have been well known to help teach youth about respect, commitment, discipline and physical conditioning. These are good foundations to develop good citizenship in our youth," he said.
The move from the street to the ring is a crucial one whose influence carries well beyond the arena. The fighters are role-models in Brazil, who are respected particularly in the country's poorer areas. They embody the strength and power which have become important parts of gaining social standing in these neighborhoods, but meshed with the law and order of the sport.
Zezinho has personally experienced the benefits of the sport, having been a Brazilian Jiu Jitsu teacher. "I support this because as [during my] youth martial arts gave me a purpose and kept me away from trouble," he said. Knowing many of the local fighters Zezinho will be in the stands on May 4th watching with a keen eye.
However, he says it's too early to begin talking of dramatic change in Rocinha. "The pacification has been a very rocky road, as we have more crime now than before. Unfortunately its a very complicated issue," Zezinho explained.
He puts some of the responsibility on the military police, responsible for security in the neighborhood, as creating an atmosphere of tension and violence. "Because of corruption and police abuses of residents here, we don't feel the police are working for us or trying to build bridges of friendship for the favela. We see the new recruits walking through the favela with their guns pointed at people. They are not going to "make friends" by doing things like this."
"The idea of 'pacification' is good but in practice it has not really been successful here," he added.