By Anna Fitzpatrick, Contributing Reporter
SÃO PAULO, BRAZIL – President Dilma Rousseff opened the sixty-sixth session of the UN General Assembly in New York – making her the first female in history to open the proceedings. Rousseff acknowledged this historical first in her speech. "I am certain this will be the century of women" she said.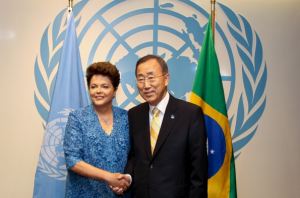 Rousseff also touched on the delicate position of the global economic crisis, highlighting that the solution would be found with co-operation between nationals.
Most of note in her presentation was her reiteration of Brazil's desire for a permanent seat on the UN Security Council, something she unsuccessfully pushed with her first meeting with President Obama earlier in the year.
She also took the opportunity to support Palestine's bid for recognized statehood, "only a free and sovereign Palestine will be able to heed Israel's legitimate desire for peace with its neighbors, security in its border and political stability in its region."
A point, on which President Obama later disagreed declaring that "there were no short-cuts to peace with Israel" without direct talks between the two countries, setting up difficulty for the request for statehood from the Palestinian Authority that will be presented on Friday.
Read more (in Portuguese).
* The Rio Times Daily Update is a new feature we are offering to help keep you up-to-date with the major news as it happens.