By Lucy Jordan, Senior Contributing Reporter
BRASÍLIA, BRAZIL – São Paulo police are no longer allowed to give first aid to victims who have been hurt in violent crimes or police clashes. A statement from the São Paulo State Public Safety Department says that as of Wednesday police are prohibited from moving victims from the scene and only emergency response teams and paramedics may treat victims at crime scenes.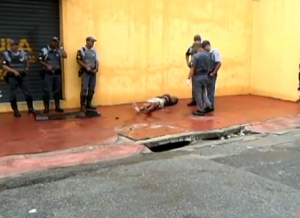 According to the statement the measure aims to safeguard the health of the victims and preserve evidence at crime scenes.
"It is important that victims of aggression and crimes, as well as those involved in clashes with the police have access to specialized rescue services, as already happens in cases of traffic accidents," said São Paulo Secretary for Security Fernando Vieira Grella.
"Moreover, the scene is preserved so the police can identify more efficiently the [perpetrator] and motivation of crimes." Mr. Grella continued.
Some police representatives expressed anger Wednesday at the measure, telling local media they were trained to provide relief and that the measure damaged their public image.
State legislator Olimpio Gomes, a former police officer, told the Folha de S. Paulo newspaper that the measure "shows the government does not trust police." Gomes, who represents military police in the Assembly, reportedly said they will try to repeal the rule.
São Paulo police have been dogged by accusations of police violence in recent years. During late 2012 São Paulo underwent a wave of violent crime that some analysts claimed was linked to increased police brutality and extrajudicial killings. Police claimed that the violence was a reaction to more effective policing on drug trafficking.
A 2008 United Nations report found Brazilian police had been responsible for a "significant portion" of 48,000 violent deaths the year previous. In a 2009 report, Human Rights Watch (HRW) documented how police officers misreported executions as "resistance killings. "
Police, the HRW report said, killed victims in "shootouts" after they resisted arrest, and destroyed crime-scene evidence to hinder forensic analysis. Another method of concealing police executions, according to HRW, was to deliver a victim's corpse from the to a hospital, and claim that the removal from the crime scene was a "rescue" attempt.
"The legitimate efforts by São Paulo police to contain violent crime have too often been undermined by fellow police who themselves engage in unlawful killings," said José Miguel Vivanco, Americas director of HRW, in a statement on the organization's website.
In São Paulo, reports indicate that SAMU, Serviço de Atendimento Móvel de Urgência (Emergency Care Mobile Service) has 140 ambulances and two thousand rescue workers operating from a hundred bases in the city. Currently they are able to arrive within ten minutes of the call in 96 percent of incidents.
Read more (in Portuguese).
* The Rio Times Daily Updates feature is offered to help keep you up-to-date with important news as it happens.