By Anna Kaiser, Contributing Reporter
RIO DE JANEIRO, BRAZIL – The city government has announced that some Lapa streets will no longer be pedestrian only on weekend nights starting this Friday, March 22nd. Since July 2010, these streets have been closed to traffic from 10PM to 5AM on weekends, which has increased the popularity of the already busy area, perhaps too much.
Residents of Lapa reportedly called for the change, tired of the excess noise and influx of people the neighborhood receives on the weekend. During the height of the tourist season and summer vacations in January and February, it is estimated that close to 10,000 people flooded the streets on any given Friday or Saturday night.
In 2010 an increased police presence along with the restoration work by the Municipal Secretary of Culture project "Lapa Legal" helped transform the neighborhood, which had suffered from neglect in the past and become notoriously dangerous. While the nightlife commerce improved, solidifying the area as a cultural hub, officials are now looking for ways to take the next step toward progress.
The city aims not only to improve the flow of traffic in the area but also to enhance security in the region. The Ministry of Public Order has reported that they will send 411 city guards to help regulate the change.
"It's too soon to say if there will be any major changes in the neighborhood when the streets [re]open next week, but I can only pray that it will improve safety in the neighborhood," the manager of the popular Guanabara Pizzaria, located a few hundred feet from the Arcos da Lapa (Arcs of Lapa), told The Rio Times. "Lapa is very dangerous, especially on Friday and Saturday," she added.
Others seem doubtful that reopening the streets will alter anything in Lapa. Dianne Oliveira works at a boteco and liquor store located adjacent to the Lapa Arches. When asked if she thought safety would improve in the neighborhood, she laughed and rolled her eyes and said, "Of course not… Lapa is Lapa, nothing will change here whether they allow cars to pass through or not."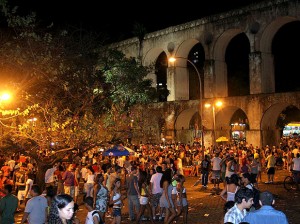 Others expressed concern that the Bohemian "Lapa culture" that so many people enjoy on the weekends will be lost when they shut down the street party and allow cars to drive through the area.
"It will certainly ruin the atmosphere and make it more difficult to hang out on the street… the whole point of going out in Lapa is that no matter how poor you are you can still join your friends and buy a cheap beer with no entrance fees," said Alessandro Rossi, a Swedish student who has lived in Lapa for just over six months.
Rossi questioned, "I don't see how this will eventually improve safety… We're talking about 300 meters of streets. The city wants to improve safety in Lapa? They might start patrolling all those dark empty streets outside the main party area."
Nevertheless, residents who called for the action are pleased. "I think it will be good for the neighborhood; less chaos and noise," said Alessandra, a Carioca who has lived in Lapa for three years. "But nothing will change in terms of safety. Before they closed the streets in 2010, there was also a lot of crime."