By Chesney Hearst, Contributing Reporter
RIO DE JANEIRO, BRAZIL – Two men accused of robbing, raping and holding a foreign tourist couple hostage for six hours in a passenger van during the early morning hours of Saturday, March 30th, have been apprehended in Rio's neighboring city of São Gonçalo and taken into custody.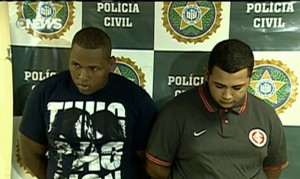 The suspects were arrested by the Delegacia Especial de Apoio ao Turista (Deat) (Special Police Tourist Assistance) on Saturday night and are identified as Jonathan Foudakis de Souza, 20, and Wallace Aparecido Silva, 22. Both are residents of São Gonçalo. A third suspect, whose identity police did not release, remains a fugitive.
According to Deat delegate, Alexandre Braga, the foreign tourist couple – whose identity has not been released by the police – boarded the van bound for the cities of Niterói and São Gonçalo on Avenida Nossa Senhora in Copacabana in Rio's Zona Sul (South Zone) district late on Friday night.
Silva and de Souza, the driver of the van, reportedly told all other passengers to exit the vehicle in the area of Botafogo. The male victim was then handcuffed and beaten with an iron bar, police say.
In Niterói, the van stopped and the victims' credit cards were used to buy drinks at a gas station and to withdraw money at a bank ATM. The van then returned to Copacabana to get more credit cards from the victims' place of residence.
Next the van returned to São Gonçalo where a third suspect reportedly joined the group and allegedly raped the female victim. The entire ordeal lasted from around midnight until 6AM when the suspects released the victims in São Gonçalo.
The couple contacted police shortly after they were freed. At the police station, the victims reportedly recognized and identified de Souza and Silva as the perpetrators.
A third victim, a Brazilian woman, has also come forward and has accused the pair of raping her on Saturday, March 23rd. She reportedly recognized the suspects in a G1 Globo article about their arrest.
Deat delegate Alexandre Braga explained, "They also happened in basically the same places. She also took the van in Copacabana, went to downtown Rio, when the suspects announced a assault, ordered all passengers out and robbed and raped the victim, who was abandoned in Niterói."
According to Braga the suspects are now charged with various crimes including; rape, robbery, increased punishment – for using the iron bar to beat the male victim, and deprivation of liberty of the victims.
Read more (in Portuguese)
* The Rio Times Daily Updates feature is offered to help keep you up-to-date with important news as it happens.