By Andrew Willis, Contributing Reporter
RIO DE JANEIRO, BRAZIL – A public meeting between government officials and members of the local community took place in Rio's largest favela, Rocinha, on Thursday, November 1st. The forum is part of the UPP Social program, designed to complement greater policing in 'pacified' favelas with an improvement in social services such as education, housing and rubbish collection.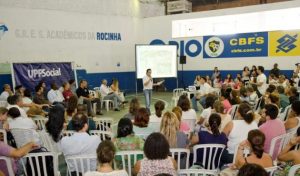 Meetings of this kind are aimed at improving the dialogue between local government and favela residents, businesses and community groups in an effort to match the provision of services with real development needs.
"Today, with this dialogue, we are going to show the activities that have already been carried out in Rocinha, as well as hear the demands of the local population," said the coordinator of the UPP Social program, EduardaLa Rocque.
Last week's meeting marked the official start of the UPP Social program in the community of roughly 70,000-90,000 people, nested on a steep hill slope in Rio's Zona Sul (South Zone) bordering the wealthy neighborhoods of São Conrado and Gávea.
Rocinha was invaded by military and police forces a year ago and received its first Police Pacifying Unit (UPP) this September. Before the occupation started, DCOD (Delegacia de Combate às Drogas) estimated traffickers moved R$2 million a week in the favela, primarily from cocaine sales.
Paulo César Valério, known as PC, and Carlos Eduardo, residents and community leaders, also spoke at the meeting. "I was born and raised here, and really, there is still a lot to happen, but with the work of the UPP Social, things will improve," said PC.
Officials in Rio have faced criticism from those who feel that the police crackdown on drug dealers and militias in the city's favelas has not been matched by sufficient efforts to improve social services.
For his part, Renato Josilvado da Silva says he will wait and see before deciding on the merits of the UPP Social program. Da Silva, better know as DJ Zezinho, is a Rocinha resident who has worked with the local community for years as a DJ instructor and guide on Favela Adventures, and enterprise that shows visitors around the local area.
"The UPP units were installed a month ago and now we will need to see if their UPP Social promises will be upheld to bring better services to our favela," he said. "Its really too soon to make assumptions. I would like to see the progress of the UPP Social in one year."
Skepticism about the UPP Social program has been matched by continued outbreaks of violence inside Rocinha since the police invasion last year. The vacuum created by the removed drug gangs has also brought an increase in petty crime and street violence that the current police presence is not large enough to deter.
For many, however, pacification has been an outstanding success. A study released by the Laboratório de Análise de Violência at University of the State of Rio de Janeiro in September found that the inauguration of UPPs has reduced the rates of violent deaths by up to 78 percent.