By Nicole Froio, Contributing Reporter
RIO DE JANEIRO, BRAZIL – A woman was crushed to death by an aluminum structure during a rural festival yesterday (November 24th) at Marina da Glória, Aterro do Flamengo. Three other people were crushed and injured by the structure that fell at around 2:15PM, at a time when two thousand people were present at the event.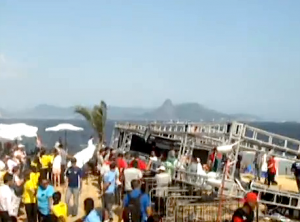 The Brasil Rural Contemporaneo (Contemporary Rural Brazil) was organized by the Agrarian Development Ministry. The public was removed from the scene and the victims of the accident were taken to the Souza Aguiar hospital in Centro.
The woman who died was Adriana Ribeiro de Jesus Porto, 64. Two other victims were released from hospital with very light injuries on Saturday afternoon.
Witnesses have reported that the structure was only held together by a couple of ribbons, which just didn't hold up when faced with the extreme winds that hit that city that afternoon. Other witnesses also report that the response time to help the victims was too slow.
Alícia Silva told O Globo: "There wasn't any kind of emergency service. They turned off the lights and told us to leave. The organizers of the event seems more worried about asking people to refrain from taking photos."
Brazilian President Dilma Rousseff sent a note to the media saying she "sympathizes with the Adriana's family and wishes to the other victims the quickest recovery". She also urged an investigation to be completed as soon as possible.
Read more (in Portuguese).
* The Rio Times Daily Updates feature is offered to help keep you up-to-date with important news as it happens.