By Marcela Canavarro, Contributing Reporter
RIO DE JANEIRO – Following decades of neglect, the cluster of neighborhoods that comprise Rio de Janeiro's historic Centro are currently in an exciting, long term process of redevelopment.
While the focus is on attracting people to live in the areas, the face-lift also includes investment from Brazil's oil giant Petrobras which has an entire block in a rundown area of Centro marked as the future location of three 25-floor towers for the company.
The redevelopment and restoration has been well under way with areas already showing the results, for example the desirable Cores da Lapa condo whose 668 apartments sold out on the first evening of sales in 2007 and the popular art and cultural events at Praça Mauá that attract crowds despite the area still being considered dangerous.
These and other examples are the results of a project launched in the early Nineties to revitalize and restore areas of Centro. in 1991 a small project to restore the area was launched, which has gone on to achieve positive results in addition to ushering in federal support and partnerships with the Commercial Association of Rio de Janeiro (ACRJ).
For centuries, Centro, the oldest part of the city was the center of Rio's, and indeed Brazil's, history. Then with the move of the capital to Brasília in 1960, the emergence of Sao Paulo as Brazil's financial center, and the expansion of the city out to the north and south zones meant that the historic Centro fell into disrepair.
The revitalizing program has two main goals in terms of creating residential opportunities: offering new middle-class residences and attracting private services for these new residents. It is a way to bring residential development and security to Centro which has been occupied mostly by commercial buildings in recent decades.
The neighborhoods included in the program are Saúde, Bairro de Fátima, Gamboa, Santo Cristo, Lapa, Cruz Vermelha, Estácio, Leopoldina and the traditional Centro where Avenida Presidente Vargas and Avenida Rio Branco are located.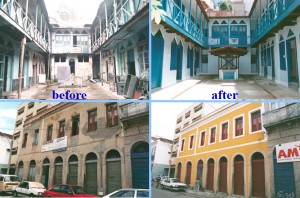 Some public buildings are already undergoing refurbishment projects which have been converting commercial rooms into residential homes or mixed use buildings, with commercial and residential places. This is known as the "New Alternatives Program" and is part of the Municipal Department of Habitation's strategy to decrease the housing deficit in Rio.
"It is cheaper to refurbish something old than build a new one", affirmed the engineer and entrepreneur Jackson Pereira to national news wire Agência Brazil.
Pereira has moved his civil construction company to an old house in Cruz Vermelha Square and is part of the Revitalization Commission at the Civil Construction Union (Sinduscon-Rio). He believes that the revitalization of Centro must attract people to live there. "There are about one million people walking every day on Avenida Rio Branco but they live in Zona Sul, Zona Norte and Barra da Tijuca" he says.
Although the revitalization program has been achieving impressive results, it still lacks investment from the private segment. ACRJ and the government of Rio have dozens of projects, under way or waiting for investors, and they are calling for support from national and international investors.