By Julia Averbuck, Contributing Reporter
RIO DE JANEIRO, BRAZIL – If someone walks by Rua Aníbal de Mendonça on a Saturday afternoon, as they leave from Posto 10 on Ipanema beach, they might notice a long line of people outside a charming two-story white house. The 1927 building, elected a heritage site by the municipal government, is home to restaurant Balada Mix and was falling apart when businessmen Arnaldo Teixeira and Rodolfo Lowndes chose it as the location for their restaurant.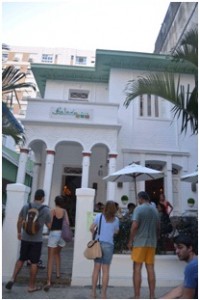 Asked about how he found such a charming location, Teixeira says that it was a strike of luck, "We came across the house accidentally, by seeing a 'For Rent' placard on the street."  
According to Teixeira, the renovation took seven months, but it was worth the wait. "Nowadays, the house itself is a driver for business because it is a charming, agreeable place to be. But this wasn't the case when we found it, we really transformed it."
Balada Mix Ipanema is a franchise of the Balada Mix restaurant chain, which opened its first store in Barra da Tijuca in 2002. Complete with a rustic décor, an extensive juice menu and healthy food options, the restaurant attracted both people from Barra and Zona Sul (South Zone), who would make their way to Barra's beaches on the weekend.
From the beginning the restaurant was a success because it adapted the juice bar culture from Zona Sul to Barra. Located on almost every corner of Leblon and Ipanema, juice bars usually have a counter where customers can order their food and eat standing up.
Barra however, does not have the same pedestrian culture that suits these establishments. Aware that people were still looking for a place to have fresh squeezed juices and relatively cheap sandwiches, Balada Mix brought that menu to a restaurant environment.
After eight years of steady success, Balada Mix's owners decided to experiment with franchising, allowing other investors to open up branches of the restaurant while they committed to help with the commercial analysis, training of the staff and architectural project. The first branch to open in Zona Sul was the one in Leblon, on Avenida Ataulfo de Paiva. Then in December of 2011, during Rio's peak tourism season, Balada Mix Ipanema opened its doors.
Like the other restaurants in the Rio chain, Balada Mix in Ipanema has a colorful and rustic décor and includes both outdoor and indoor seating. The restaurant is complete with television sets, usually turned to a sports game or the beach documentaries of Canal Off.
Balada Mix is open everyday from 8AM until midnight, and until 1AM on Fridays and Saturdays. Although there is usually a short wait time for lunch on weekends, the restaurant's 200 person seating capacity means the wait is never too long.
Offering more than twenty types of fruit juices, sandwiches, grilled dishes and even sushi, Balada Mix has something for everyone. The restaurant also offers a fixed price, all-you-can-eat breakfast on Saturdays and Sundays, as well as holidays, from 8:30 AM to 12:30 PM with differentiated prices for men and women because as owner Teixeira explains, "Men always eat more than women."
In a neighborhood that has plenty of restaurant options for customers to choose from, customer Rafael Tassinari says Balada Mix draws large crowds because it is "bom, bonito e barato" (good, beautiful and cheap).
According to Tassinari, the reason he has followed Balada Mix from Barra to Ipanema is the combination of excellent food, good service and affordable prices. The long line outside on a sunny Saturday afternoon seems to suggest that Tassinari isn't the only satisfied customer.