By Georgia Grimond, Senior Contributing Reporter
RIO DE JANEIRO, BRAZIL – Following the success of their first co-working space and seeing an opportunity too good to miss, XXVINTE, a Rio co-working collective, has opened a second venue across the road in Jardim Botânico. The two houses are located on the quiet and leafy Rua Visconde de Carandaí, which lies perpendicular to Lopes Quintas, one of Rio's chicest streets.
Having launched at Number 20 in May 2014, XXVINTE recently found themselves with the chance to take over the house opposite, at Number 17. Though it was early on in the project to take on the investment and risk of trebling in size, the opportunity and convenience of expanding to a neighboring property was too great to resist, says co-founder Daniel Frazao.
"One of the pillars of our project is the formation of a community and network, this particular factor justified the investment. We believe that the greater our network of residents, partners and employees, the more breath will in our organism and our culture. Consequently, the more strength our co-working group will have and the greater the perceived benefit for those attending the space."
The house was formerly a nursery but had been abandoned and was in need of extensive work. After adding structural reinforcement and overhauling the hydraulics and electrics, the interior design was done in keeping with the first house, with exposed brick walls, cable trays, lighting grids and a burnt cement floor.
Arranged over three floors, the space is a mix of private and collective areas. The ground floor is given over to events, with an entrance hall and an auditorium with fifty seats. There are eight private rooms on the second floor and the third has group tables, a meeting room and café, as well as a terrace with views of Christ.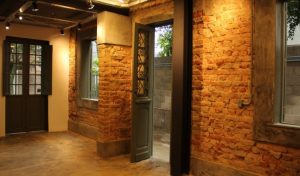 Part of the attraction of choosing to operate in a co-working space is the economies of scale and reduction in cost of overheads. XXVINTE's new house takes this into consideration and benefits from capturing rainwater to use for flushing toilets and in outside areas. Large glass windows and skylights to maximize the natural light and low-energy light bulbs and LEDs to reduce electricity consumption.
Perhaps the greatest pull of a co-working space, however, is the opportunity to share ideas and collaborate, hence spaces tend to appeal to people in similar industries. XXVINTE attracts a range of creative workers, with a focus on design, fashion, architecture, film and communication. It currently has sixty residents from eighteen brands.
Co-working is an increasingly common way of working, particularly in Zona Sul (South Zone) in Rio where office space is expensive, utilities and taxes can be high and commutes can be long. Rather than work from home, small businesses, consultants and freelancers in particular benefit from the social and financial advantages of shared working spaces.
"The country is experiencing a crisis in the formal economy and political instability, which is diverting the traditional investor," explains Frazao. "There is nothing more interesting than to discuss new directions, new formats and seek spaces like ours, which intend to reflect this culture and change the way we interact, work and live. Rio is and has always been a cultural vanguard in many ways. We believe in this potential and chose this city."
XXVINTE holds a number of events. For more details, please visit their Facebook page.