By Lisa Flueckiger, Senior Contributing Reporter
RIO DE JANEIRO, BRAZIL – Rio de Janeiro state Governor Luiz Fernando Pezão has handed over the environmental license necessary to start construction of Niterói's exclusive rapid bus line, the Transoceanica, to Niterói Mayor Rodrigo Neves. With the license obtained, the long-awaited construction of the public transport system should start later this month.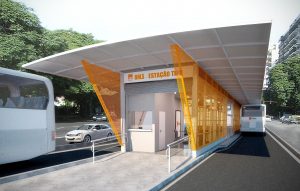 The Transoceanica will connect Charitas in the South Zone of Niterói with Engenho do Mato in the oceanic region. The line will be 9.3km long including a new tunnel between Cafubá and Charitas and have thirteen stops in eleven neighborhoods, with a capacity to transport 80,000 people per day.
In Charitas the line connects with the existing bus terminal and the boat landing. Later another exclusive bus line to the Centro of Niterói is planned, the TransNiterói, which would connect the bus system to the bridge across Guanabara Bay and also with the planned metro line 3 between Niterói and São Gonçalo, currently in planning with construction to start after the Metro Line 4 has finished.
The exclusive bus line will be similar to a BRT, but is called BHLS (Bus of High Level of Service) and will be the first of its kind in South America. The buses will be smaller than the BRT and be equipped with air conditioning and doors on both sides of the vehicles.
"Investing in mobility is giving citizenship and dignity to people. This project is very important, with a BHLS and a bike path, without privileging the car, with all the care of thinking about the population and the environment," Pezão stated.
"This construction changes the paradigm of urban mobility in Niterói because it creates an offset option for the population. The BHLS between Engenho do Mato and Charitas will improve the performance of public transport in the city," Mayor Neves added.
The entire project will cost R$311 million and the construction start had initially been announced for 2014. Traveling time from the southern part of Niterói to Rio de Janeiro's Centro, now taking around two hours, will be reduced to thirty minutes.