By Jaylan Boyle, Contributing Reporter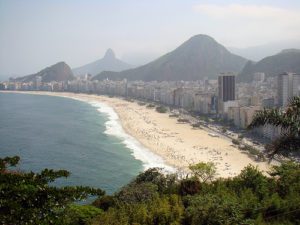 RIO DE JANEIRO – As hangovers subside following the Olympics announcement on Copacabana's golden sands, it seems fitting to give real estate readers an overview of one of the key areas that will host the assembled hordes in 2016, at least as it is now.
One thing is certain: Copacabana will be undergoing big changes as Brazil gears up for its party of the century. Over the next seven years that's going to mean construction works and plenty of them to buildings that are already there. To those looking for investment opportunities it will mean better infrastructure, and better returns.
Of course any non-resident Gringo will probably draw you a picture of Copacabana if asked 'what's Rio like?'. Thanks to the reputation it's enjoyed since the time of the silver screen, the place to be seen for any Hollywood star was the world's most famous beach.
Some would say that the glory days are over, and certainly when set next to illustrious neighbor Ipanema, Copacabana can sometimes look a bit crumbly around the edges.
But again, that's all set to change, because illustrious or not, Ipanema missed out when the state powers-that-be were deciding where to put everything in 2016. That means the government will be loosening the purse strings in a big way to get Copacabana looking it's classic best.
The name Copacabana was actually imported, coming from the Copacabana Peninsula in the south of Lake Titicaca which borders Peru and Bolivia. Here there is apparently a chapel containing a miraculous visage of the Virgin Mary, from which a copy was taken and sent to Rio.
The icon was installed in a chapel which was situated near Posto Seis (Watchtower 6), which is the southern border of the present-day suburb, and dedicated to 'Nossa Senhora de Copacabana'.
If you're looking to buy in Copacabana, getting in fast is probably good advice, due to the above reasons. As of right now, a one-bedroom apartment will set you back between R$100,000 and R$800,000, with most falling into the R$150,000 – R$350,000 range.
Compare that to a middle-of-the-road Ipanema price of R$400,000-plus. The prospective buyer will notice that there's a lot more on offer in Copacabana too; coveted Ipanema properties don't hit the market that often.
If you're looking to rent a one-bedroom, you'll pay anywhere between R$500 and R$2,000 per month for a 30-60 square meter apartment, with an average of around R$700.
For two bedrooms, figure on paying at least R$300,000 for a reasonably well-appointed apartment, and although there's plenty on offer above the R$1 Million mark (as there is all over Zona Sul), the average falls between R$350,000 and R$600,000.
There's really quite a pronounced price spread in the two-bedroom market, but in area terms chances are you're looking at between 60 and 90 square meters. Rental seems to jump up quite a bit from the one-bedroom market, with an average of around R$1,500/month.
Buying a reasonable three-bedroom apartment will almost certainly start at R$400,000, and R$1,500/month will be a rental bargain.