By Andrew Willis, Contributing Reporter
RIO DE JANEIRO, BRAZIL – A conflict between expatriates over land ownership in Rio's Vidigal favela community is headed for the courts, after residents at the Casa Alto Vidigal guesthouse were reportedly locked out last month. The dispute underlines recent investor interest in the pacified favelas of Rio, especially in Vidigal.
Guesthouse founder Andreas Wielend was visiting his native home in Austria when, on September 6th, German investor Rolf Glaser reportedly turned up at the building and evicted its residents. All the furniture and possessions were thrown out, and putting new locks on the doors, Glaser claimed to be the rightful owner.
The guesthouse is popular with Brazilian and international tourists, and has also become well known for its weekend parties that often last until well after sunrise.
Five years ago Glaser bought roughly forty buildings in Vidigal but struggled to gain the support of local authorities for his development projects that included hotels, guesthouses and restaurants. He subsequently sold most of the properties, roughly two years after his initial purchase.
"At that point I bought one house, directly from him. I gave him the money and his lawyers signed the contract," Wielend said in a phone interview. Then, after several years of silence, Glaser made contact again. "About a week before invading my house, he sent me several emails asking me if I wanted to sell my place. And I said no," Wielend said.
Glaser gives a different account of events on September 6th. "I never expelled anybody," he said in an emailed communication. "I waited six hours for this guy Thomas [but] he did not show up. I secured the open door and left keys with the [guesthouse] employees."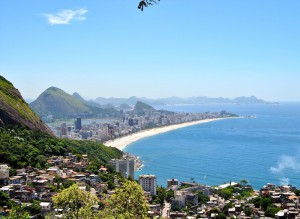 The businessman also denies he has immediate plans to restart his development projects in Vidigal. "I am in an observing position to see what the plans of the city and the [favela] association are," he said.
"It looks like I am getting more involved with [nearby favela] Rocinha. I am living there about three days a week and I am developing more activities."
However Wielend indicates that the same tactics are in store for other residents who bought property from Glaser. "I'm just a little part of this," he added "Now Rolf Glaser wants all his houses back … There's big stuff going on right now in Vidigal."
Local police have forwarded the case to the Special Criminal Court (Jecrim) where judges will decide who gets possession of the property. The Alto Vidgal case was a large enough issue it caught the attention of O Globo, Rio's largest newspaper.
Spanning a hillside above the Zona Sul gem Leblon, with excellent views over the South Atlantic Ocean, local and international interest in the Vidigal has increased steadily since pacification in November 2011 brought added security and services.
The installation of Pacifying Police Units (UPP) in several of Rio's favelas has helped reduce drug-related violence and brought about a corresponding rise in property prices.
"There is still a lot of interest in Vidigal both from local and foreign investors," said Charles Morphett of Rio Exclusive estate agents. "Now with a process available for the locals to legalize their properties … the 'Vidigal Market' may follow a similar trend to that of the Babilônia favela in Leme."
Some properties in Babilônia have roughly doubled in value since the favela's 2009 pacification.