By Felicity Clarke, Senior Contributing Reporter
RIO DE JANEIRO, BRAZIL – Rio's unique topography is one of the city's most alluring features, not least for the endless stunning views from the hilltops. As such, there is no shortage of rooms with a view, from bohemian favorite Santa Teresa to the multitude of favela communities that spread up the hillsides. However, a major practical consideration for life at a higher altitude is transportation up the steep inclines.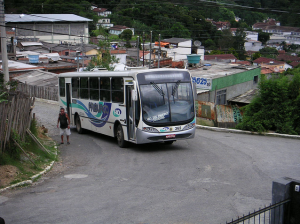 The easiest and safest – but by no means the cheapest – way to get around a city is by taxi, and indeed Rio is well served by darting yellow cabs. However many drivers (or as they tend to argue, their cars) have an extreme aversion to ascending the hills, and will point blank refuse customers wanting to go up to Santa Teresa, for example.
Rio's bus services tend to focus on the flat lands, however there are some lines that make the climb. Santa Teresa is serviced by the 214, which goes to Paulo Mattos and the 206, which goes to Silvestre from where you can climb Corcovado up to Christ the Redeemer. Both depart from Castelo in Centro.
The official bus service is complemented by an unofficial service of vans known as kombis that provide another cheap mode of transport around the city. Often rickety Volkswagen vans that grind and clunk their way up the steep, winding roads, kombis go where buses don't, providing a service to communities all over Rio.
Some have even been 'pimped' and fitted with UV lighting and video screens, and air-con if you are very lucky. Journeys cost between R$1.50 and R$2.20, but don't expect any English language to be spoken, and for those new to Rio and Portuguese, these are not recommended.
Another somewhat 'irregular' option is a somewhat novel mode of transportation for many, the mototaxis. Mototaxis (motorcycle taxis) are widely available and popular with hillside residents in Rio for their fast, cheap service. Zipping around Rio on the back of a motorbike, weaving in and out of the traffic, gripping on as the climbing roads wind and bend, is easily one of the most thrilling ways to get from A to B.
There is the obvious concern of safety, for which by-and-large the stone-faced mototaxi driver has scant regard. For example, you may have to make a point of requesting a helmet, with uncertain chances of success. Burning your calf on the exhaust-pipe is common passenger injury, and be sure to hold on because most of the drivers know every twist and turn.
But if the idea still appeals, for excitement, ease and value there are no better alternatives. Look out for the various mototaxi points (Santa Teresa can be reached by the points at Glória metro, Rua Gomes Freire and Rua Monte Alegre in Lapa) and journeys cost around R$5 for 5km, or a standard R$2 for a swift uphill trip.
For Santa Teresa there is also the option of taking the famous bonde from its Carioca Station in Centro which goes to either Dois Irmãos beside Morro dos Prazeres or Paula Mattos ending at Largo das Neves and costs R$0.60. Be sure to sit on (or hang off) the right side going up or the left going down to get the best views.
As part of the UPP process of legalizing and servicing Rio's favelas, pacified communities are starting to receive new official transport methods to reach the heights of the hills. Morro Santa Marta in Botafogo has a free tram service from the foot of the hill up to the top running daily from 7AM to midnight, and an elevator servicing the communities of Cantagalo and Pavão/Pavãozinho in Ipanema was inaugurated in June.
Although presenting a transportation challenge in some respects, there are options, and the lower rents, fresher air and stunning views make hilltop living in Rio an appealing option.