By Ana Gabriela Ribeiro, Contributing Reporter
RIO DE JANEIRO, BRAZIL – The neighborhood of Leblon is perhaps the most exclusive and expensive in the city, yet bordered on two sides by canals draining into the sea, polluted water is often harming the beach's appeal. On one side is the Jardim de Allah canal, and the other side the Visconde de Albuquerque canal, and residents have since, long been hoping for some solutions.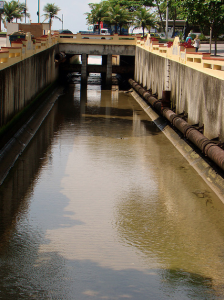 Some of the more astute locals know there is information available at the Inea website (State Institute for the Environment) regarding the current water quality, but it is hard to keep up with, especially on a sunny Sunday morning after bathing suit and sunscreen are already on.
The levels of water contamination has been a complex issue for the city, who have recently announced a program called "Sena Limpa" that promises to clean up beaches until 2014, starting this year with Ipanema Beach.
According engineer Benito Da Rin, writer and blogger for O Globo working for 54 years in the field, most Cariocas (and the media) have no real knowledge of what "the pollution" is. For instance, people think that coliform bacteria is the same as fecal coliform – which is much different and can cause health problems.
Da Rin explains that there is a standard number of acceptable coliform in any given water sample, and this is how the sea water is monitored. However, this system is mainly based on the water appearance; it means little to how it affects people's health.
"Of course no one will want to bathe in a dirty sea, it is not pleasant," states Da Rin. Nevertheless, no one gets sick by bathing on a dirty sea, "The only way to get a serious disease like typho, for instance, is by drinking seven liters of polluted water, not by skin contact as one might believe."
It is not a new concern for residents of Leblon, and for many the science is less of a concern then the appearance. Julia Macedo, who goes to Leblon Beach, says, "It is the color of the water that counts. If it is too dirty, I will just take a shower [at the public beach bathrooms]."
For Gabriel Mellin, a surfer living in Leblon, pollution is a major issue but it doesn't keep him out of the water. "I guess Cariocas already have antibodies," Mellin laughs.
However, British expatriate Mary Byker, who owns Mekong restaurant in Leblon, is less forgiving and says, "the treatment of waste and pollution [in the] various canals that run into the sea have been left unchecked for a long time," and he hopes "new measures will come into effect sooner than later so Rio can have clean beaches that Cariocas deserve," says Byker.
In regard to the source of the contaminated water, engineer Da Rin explains illegal and un-zoned rainwater drainage pipe connections are among the major sources of pollution. In Rocinha, at least 100,000 people are illegally connected to Visconde de Albuquerque's canal, which makes it difficult to control where the pollution comes from.
Another major problem is the illegal sewage pipe connections – termed gatos (cats) – made by people living in expensive parts of the city as well: "A famous football player decides to build a bathroom on the top floor of his building in Lagoa, and decides to connect his toilet on the rainwater sewage downpipe. We [should] track this gato and give him a fine," Da Rin exclaims.