By Michael DeLeo, Contributing Reporter
RIO DE JANEIRO, BRAZIL – Many come to Rio De Janeiro having never heard of Leme, but this small borough boasts the same beautiful beach as Copacabana and the same main drag of cyclists, skaters and runners. The only difference being the lack of congestion and tourism, which are the same reasons that keep this little piece of Rio a favorite getaway for locals.
At the end of Leme's secluded beach you'll find 'Morro de Leme,' a large mountain lined with a fisherman's walk. This walkway is populated by local fishermen and provides the best view of Copacabana beach, hands down.
Walk a bit further and you'll find another large mountain called 'Morro do Urubus.' In between the two mountains lies Forte do Leme (Forte Duque de Caixias) which was built in 1777 to protect Brazil from a Spanish invasion and now serves as a tourist attraction and a fantastic view point of the city.
One of Leme's best assets is its peace and quiet, perfectly located away from the congested Tunel Engenheiro Coelho Cintra and nestled next to aforementioned Morro do Leme. This local area has no bus traffic and is set away from the bustling Avenue Princesa Isabel.
Another key element to Leme's bliss is that it only stretches two blocks away from the beach, making the local population low. This may not attract your average tourist, thus the lack of large hotels lining the beach, but to most residents this tranquility is priceless.
Leme's lack of square mileage does not squander the local nightlife. The quaint streets are dawned with the restaurants D'Amici for Italian food, a French restaurant San Sebastian, and a Spanish eatery named Shirly, amongst several others.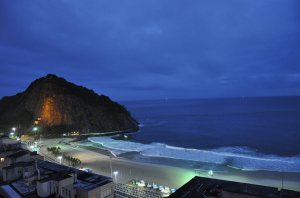 Visitors may have some trouble looking for post dinner entertainment since there is no cinema or theater. These flaws, however, could be viewed as positives since the lack of late night activity aids the quiet nights.
With all these positives Leme's real estate prices are increasing, although remaining modest within some areas of the Rio De Janeiro market. A one-bedroom apartment will fetch R$1,600 to R$1,800 monthly rent, while a two-bedroom rent will cost you R$2,500 to R$3,000 (not including condo fees). Respectively, this is a R$300 and R$800 increase from our last report on Leme in January of this year.
Of course, beachfront apartments will cost much more, as much as R$7,000 for a two-bedroom. "Real estate prices are crazy right now," explains Ana Toledo of Rio Apartment Rentals.
For those looking to buy, a recent search found one-bedrooms listed at R$320,00 and R$650,000, which is representative of the range increasing sharply. Two-bedrooms are listed from R$530,000 to R$1.3 million for the prized beachfront views.
Compare those prices to Ipanema and Copacabana and Leme seems like an easy decision, but be prepared to hoof it to Avenue Princesa Isabel for the closet bus stop. If you don't commute often or don't mind the walk then Leme is the place for you.