By Lisa Flueckiger, Senior Contributing Reporter
RIO DE JANEIRO, BRAZIL – Another two new trains will start circulating in the SuperVia train system in Rio de Janeiro. The trains bought in China by Rio's government are part of a rejuvenation of the train fleet totaling in a hundred new trains, 68 of which are already in operation.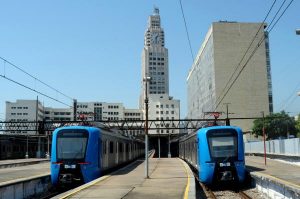 The new trains will first be tested in supervised circulation for a week, before they are inserted into the regular train operations. Each train will be able to transport 1,200 passengers.
With the two new cars, 85 percent of all SuperVia trains now offer air-conditioning. The Chinese trains are also equipped with a passageway connecting all the cars, a door-blocking system while driving, cameras, baggage racks and LED screens.
The process of rejuvenation of the SuperVia fleet will be completed in early 2016 with all hundred trains in operation, offering air-conditioning for all passengers. The train will be one of the public transports that can be used to reach Olympic site Deodoro, as well as the Olympic stadium, known as 'Engenhão', site for the athletics competition.
The rejuvenation had started in 2012 when the state of Rio de Janeiro bought the first trains from China and the first thirty compositions began to circulate in the city. Currently, a new international bidding process has been started for another twelve new trains. The main criteria for selection will be the price.
The SuperVia train system in Rio de Janeiro offers seven lines to the outskirts and suburbs of Rio de Janeiro. They all leave from the Central do Brasil train station, where they are connected with the city's metro system.