By Alfred Rinaldi, Contributing Reporter
RIO DE JANEIRO, BRAZIL – Apart from being Rio's most vibrant nightspot, Lapa also has the sad reputation of being riddled by crime recently, with three people having been attacked in one week alone last month (December 2013). In a renewed push to meet this challenge and make the neighborhood safe for the World Cup and beyond, the authorities have launched Operação Lapa Presente (Operation Today's Lapa).
The operation's task force consists of 123 officers who patrol the area by car, bike and on foot every day between 9:30 PM and 5:30 AM, with the Polícia Militar and a team of social workers providing further assistance to the open-ended effort. In its first night, officers made 35 arrests and put 26 homeless people into shelters.
Both residents and businesses, who have been watching recent developments with concern, likely will welcome the new initiative. If successful, it will enable the area to capitalize on its many strengths. Due to its location between the Centro and Santa Teresa as well as its architecture, Lapa has been attracting increasing interest and from locals and foreigners looking for a convenient pied-a-terre in town.
Another draw to the area for those new to Rio are its many antique shops, which are centered around the Rua Lavradio, as well as its first-rate entertainment, the neighborhood is very much on the radar of celebrities and trendsetters: Alicia Keys, Morgan Freeman, Spike Lee and Gaetano Veloso have all been spotted here.
Heather Watson, a Canadian teacher dividing her time between Brazil and Argentina, sees parallels to Buenos Aires: "I like Lapa's decadent vibe – the ancient and the modern, the excessive and the minimalist, the sublime and the debauched. It reminds me of San Telmo in Buenos Aires, a formerly very wealthy enclave that has become a bohemian haven."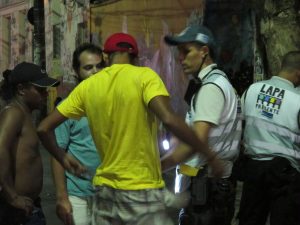 Venues of note include Rio Scenarium, voted one of the world's best ten bars by the UK's Guardian newspaper. Located close to the Centro in Rua do Lavradio 20, this is a stylish venue for a glamorous crowd looking for samba in a high-end setting.
At the other end of the scale and no less enjoyable is A Vaca Atolada (Literally, "The Bogged-down Cow" – a popular Brazilian beef stew) in the Avenida Gomes Freira 533. Firmly in the hand of ordinary Cariocas, this authentic neighborhood botequim always features a live band and offers an enchanting glimpse of samba in a simple, working-class setting.
Those in search of rock will feel at home at Lapa's Irish Pub in the Rua Evaristo de Veiga 147, directly next to Lapa's iconic Arcos (arches). Here, party-goers oil their vocal chords with imported beers such as Guinness or Pilsener Urquell on Wednesday's – the karaoke night – or listen to live acts on the weekends. Best of all, owner manage Bob Fetterman operates the Bohemia Hostel directly on top of the pub, delivering entertainment and accommodation in one handy package.
African drumming has its home at Cultura Afro-Brasileira on Avenida Mem de Sá 69 – impossible to miss, it provides an acoustic signature to this part of the bairro. Right next door is FEBARJ – Rio's top spot for hip-hop beats and thugged-out fashion, the music and crowd an incongruous match with the venue's crumbling historic façade. Particularly rewarding is a visit to the balcony, which offers an atmospheric view of the bustle on the sidewalk below.
For those interested in living in Lapa, a recent search found studio-sized boltholes starting at R$265,000, while a one-bedroom can be had for R$495,000. The same search found one-bedroom apartments to rent from R$1,200 per month, with the most luxurious one-bedroom offering, furnished and "accommodating five people", listed at R$4,500.