By Ana Gabriela Ribeiro, Contributing Reporter
RIO DE JANEIRO, BRAZIL – A new public extreme sports park on the Lagoa has been planned to replace the 18,000 square meter privately run Academia Estação do Corpo, which originally opened in 1997. Construction for the new park is set to start in April of this year, with the hope of opening for the public in the beginning of 2013.
The new Lagoa park, according to a report by O Globo, will include the construction of a permanent BMX track (the first one in Rio), another area for skate boarding, a mini cycle stadium, an out door climbing wall and even a zip line.
Also, around Lagoa's waters, a large wooden deck will be constructed as a place for events and shops. "It is a victory for Rio, to recover such an amazing place. The project is still in its basic design conceptual phase, but the idea is that this place will attract many people to this part of Lagoa," Mayor Eduardo Paes explained to the press.
Other sources, quoted by the report, say that the park will have landscaping with palm trees, Portuguese stone pavement, a wall for graffiti artists, toilets and a parking lot with capacity for a hundred vehicles.
More importantly, the park is designed for extreme sports enthusiasts, especially for BMX fans. The BMX circuit will be composed of grass, synthetic stretch parts and interlocked floor. "We thought about those extreme sports players for who have no space in the city," says engineer David Lessa.
As of the report, Lessa explains that the Prefeitura still needs to talk to Secretaria Municipal do Ambiente (Municipal Environment Headquarters) and the Instituto do Patrimonio Historico Nacional (IPHAN), to decide who will be in charge of the administration of this recreation area.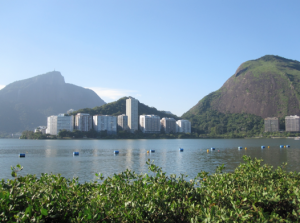 For Brazilian Lagoa resident, Gabriel Fernadez, this project will fit like a glove. "I think it will be cool to have something like that here. There are already many extreme water sports on the Lagoa so this park will fit right in."
For Extreme Sports Travel and Real State professional Martin Stockl; "There is a huge population of young people between the ages of 18-25 who are all sports oriented. Investing in these types of projects can turn street kids into athletes."
"These type of projects can create a positive community that will keep the kids involved in sports rather then crime." Stockl adds it will be a "new way for Rio to attract and host local and international events."
The work is part of the stimulus package (budgeted at R$8.5 million) which has been taking place on Rodrigo de Freitas lagoon (Lagoa) surroundings since last year. Within the reform package there is an adjustment on the Lagoa's public lightning that has already been made and also on the renovation of Cantalo's park.
Estimated at R$5.4 million, the structures should be ready in eight months, after Academia Estação do Corpo hands over the grounds on April 2nd. The Academia Estação do Corpo's eviction is a result of an action of the Public Ministry taken in 2008, based on the no-bid lease renewals of the contract of sale.