By Lisa Molinari, Contributing Reporter
RIO DE JANEIRO, BRAZIL – People from the west of the State of Rio, in Santa Cruz and Campo Grande, now have the opportunity to travel to Barra da Tijuca quickly and inexpensively. A new Transoeste BRT Line (Bus Rapid Transit) was inaugurated on Wednesday, June 6th, in the presence of Rio State Governor Sergio Cabral, Rio Mayor Eduardo Paes and ex-President Lula.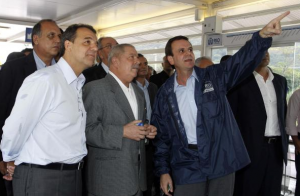 The new line is 56 kilometer long and will connect Barra da Tijuca to the western neighborhoods of Santa Cruz and Campo Grande in a one hour ride for a regular ticket price (R$2.75 or the popular Bilhete Unico).
Passengers will be able to get live information about waiting time through special monitors at every station, and they will enjoy such comforts as conditioned air and TV monitors on board the specially outfitted buses.
Though most of all, they will benefit from an average one-hour reduction in travel time (until now, traveling between Barra and Santa Cruz takes approximately two hours during peak traffic hours) thanks to specific bus lanes and immediate boarding at BRT stations. Another feature to speed up the transit is tickets will be bought in advance of boarding.
This represents a step forward in terms of quality of life for an estimated 220,000 commuters who will be given the chance to hop on and off 59 brand new BRT stations, which will be ready by the month of August (about half of them have already been completed), to get to their destination in the Zona Oeste (West Zone) of Rio.
Barra resident Mateen Thobani expects that, once completed, the Transoeste BRT Line will help the traffic flow smoother not only between the two ends of this line, but also within Barra and between Barra, Recreio and the airport. What's more, the project involves the use of green fuel, hopefully reducing pollution rates in the city.
Thobani expressed relief as; "up till now, the construction of the BRT and its taking over a lane has greatly increased travel time for those in cars or condominium buses both because of diversions related to construction and the reduction of one of the travel lanes for the BRT."
However Thobani also explains that "the main bottlenecks in getting to the Zona Sul [South Zone] will remain until the underground metro is built that connects to the BRT at the beginning of Barra. This is expected to be done by 2016, just before the Olympics."
As Mr. Thobani points out, this project is part of a big transport implementation – due to be ready for the 2016 Olympic Games – which comprises other three lines: Transcarioca linking Barra to the Tom Jobim (Galeão) International Airport, the Trans Olimpica which will link Barra to Deodoro and the Trans Brasil connecting Deodoro to the Santos Dumont Domestic Airport.
A total of R$1.63 billion was provided by the Federal Government for the development of BRT and LRT (the Light Rail Transit line in Centro) together, these being the two key projects for a dramatic improvement in urban mobility and public transport.