By Jay Forte, Contributing Reporter
RIO DE JANEIRO, BRAZIL – The four Biblioteca Parque (Park Libraries) of Rio de Janeiro closed last week on December 30th for the end of year recess, with only one planned to reopen this week, according to a government news report. The network's more than 150 employees received advance notice earlier last month.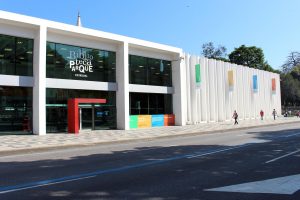 Last Thursday, December 29th, the Instituto de Desenvolvimento e Gestão (IDG, or Institute of Development and Management), which manages the units, used social networks to warn about the closure and bid farewell to the regulars.
According to IDG, the contract between the institute and the State Secretariat of Culture was terminated, and now the state government is responsible for the units. Earlier last month, IDG director Henrique Oliveira said that R$20 million per year is needed to keep the units functioning.
The four libraries had operated with funds from the municipal governments of Rio de Janeiro and Niterói, totaling R$1.750 million per month. Now only the one in Niterói is scheduled to reopen today (January 3rd) and operate for another twelve months.
The other three units, in Manguinhos, Rocinha and Centro of Rio de Janeiro, will be closed for a "short period", according to the secretariat, so that the transition of the administration can determine the best management.
"The expectation is that they will return to operation as soon as possible. Negotiations with the team of the [new] mayor, Marcelo Crivella, for the maintenance of the units are underway with the Ministry of Culture," the statement from the Secretary of Culture said.
Julia Michaels, an American expatriate and the journalist behind Rio Real Blog shared, "Those libraries are very important, and symbolically part of so many policies that were supposed to make Rio great, and to show how important good public services could be. [They also] meant a lot to young people that lived in those places where they are located."
On its website, Biblioteca Parque report that they have a collection of 260,000 items and receive an average of 2,200 people per day. The collection has 2,800 titles in Braille or audiobooks and more than 74,000 people are registered for loans.
In a farewell post from the institute that administers the libraries, netizens lamented the closure. "It is incomprehensible that the state should stop such an important and innovative initiative," said one of the followers. "Abandoning knowledge is a testament to ignorance."