By Nelson Belen, Contributing Reporter
RIO DE JANEIRO, BRAZIL – As part of MetrôRio's "Quem Prova Aprova" (Who Tries It Approves) campaign, the five stations of the new Metro Line 4 will offer riders a reduced fare of R$3 until Sunday, April 30th.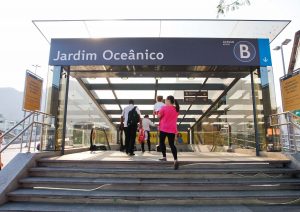 The promotion will apply only to riders who enter at any of the five Metro Line 4 stations: Nossa Senhora da Paz, Jardim de Alah, Antero de Quental, São Conrado and Jardim Oceânico. The reduced fare of R$3, a savings of R$1.30 off the normal R$4.30 fare, will also only apply to riders who use the MetrôRio Pré-pago (Pre-paid) Card.
This is the second phase of the "Quem Prova Aprova" program whose goal is to promote ridership on the new Line 4. The program's initial phase began on Saturday, April 8th and lasted until Sunday, April 16th, and involved offering riders free entrance to the Metro at the five Line 4 stations.
"The "Quem Prova Aprova" campaign has achieved the expected result we planned," exclaimed MetrôRio president Guilherme Ramalho. "Last Wednesday, April 12th, we had a record 194,000 passengers on Line 4."
Since the elimination of the need to transfer from Line 4 to Line 1 at General Osorio, it's now easier than ever to ride from Barra da Tijuca all the way to Centro.
The travel time between the Jardim Oceânico station in Barra da Tijuca and Centro in Rio is now approximately thirty minutes. And Ramalho believes that this is a journey that everyone in Rio should experience.
"We believe this is a great moment to present Line 4 to all Cariocas and to those who are visiting the city," said Ramalho. "We made a direct connection between Barra and South Zone, Centro and North Zone; we reduced the travel time and the interval between the trains. Anyone who experiences the trip will approve."
Following the end of the promotion, the fare at the five Line 4 stations will return to the normal value of R$4.30.
Some twenty years in the making, the Metro Line 4 opened just days ahead of the Rio 2016 Olympic Games. The line opened to the public on September 19th, the day after the Paralympic Games ended.
Despite finally connecting Barra da Tijuca with Rio's South Zone, the arduous transfer from Line 4 to Line 1 in Ipanema left many riders dissatisfied. Finally, on March 25th, MetrôRio unveiled the new direct connection between Line 4 and Line 1 with no transfer needed.